The Last Word:
A New Way to Go Green
An online database and ad system is now in place allowing theatre companies to exchange and reuse materials. The site was created and conceived by Matt Kizer at Plymouth State University in New Hampshire. It is called GreenTheatre.net and is a developing project with a committee of professionals from across the United States.
In 2008, I was the set designer for a production of Into the Woods. It was produced on our main stage, a 51-foot proscenium. It was a big set, done in a fairly traditional way for that show. A local high school was producing the same play a few months after us. We were able to give them a lot of scenery that we would otherwise have thrown away. It was nice to see so much scenery get used a second time.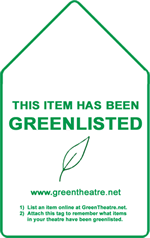 In 2009, I was pleased to have this happen again, with another high school, after a production of Oklahoma! Informally, my technical director and I agreed that, whenever possible, we would try to find someone willing to take items off our hands rather than throw them away.
In 2011, I had the good fortune of attending the Plenary Session on Sustainable Production at the USITT Annual Conference in Charlotte, North Carolina. Representatives from three different organizations discussed current efforts to develop more sustainable theatre practices.
Participants included Jeff Lemire and Anthony Runfola from Childsplay, a theatre company for young audiences in Arizona and a recipient of a Think It! Grant from TCG; Charles Deull, co-chair of the Broadway Green Alliance; and Richard Cuthbert, director of engineering and co-founder of Global Design Solutions. The panel discussed changes to design and production practices in order to reduce and reuse materials, and ways to instill more sustainable practices within the industry and in the everyday life of theatre patrons.
The themes I kept hearing revisited in this session were that we need to "..educate, motivate, and inspire the theatre community and its patrons to adopt environmentally friendly practices..." [paraphrased here from the Broadway Green Alliance's website]. The desire to share resources to cut down on consumption and cost kept coming through as well as the difficulties in getting sharing to work well.
That same morning, I also attended the meeting for New England Regional Section headed by Joseph Donovan. Sustainability was not the hot topic at that meeting, but a related topic was. Everyone wanted a way to share resources.

All theatres have some limit to their storage, whether it be for scenery, costumes, or props. We all make decisions at every strike about what to keep and what to throw away. From the sense of both environmental and financial responsibility, these choices are painful.
At the Plenary Session on Sustainable Production, Craigslist was discussed. People have experimented with sharing or selling scenery there. Unfortunately, it is a terrible tool for that. There are too many people selling every kind of thing on Craigslist. Theatre needs a tool that caters specifically to production needs. Though Craigslist might not be the right tool, the model itself might be just right.

In July 2010, I registered the domain name GreenTheatre.net. I had a mind to develop a discussion forum about environmentally friendly theatre. After this conference, I knew what sort of format was really needed. It needed to behave like Craigslist, but it needed to be just for theatre. This means a classified ads-style forum, where people can shop at the national level, but target items regionally if they choose. This forum is called GreenList.


GreenList is structured to be a centralized network of online theatre communities. It offers free online classified advertisements for the exchange of resources. Just go to GreenTheatre.net, and click on the big tab that says "GreenList."

North America is represented broken up into regions. Most of the regions are based on the regional sections of USITT. All 50 states are represented, and Ontario as well.
The website and the database, however, are only the very beginning needed to make this work. We work in an industry that is all about solving problems within short deadlines. Next month's show usually demands our attention more than thinking about our stock.

If GreenList had a thousand items already listed on it, ready to be picked up, everyone would be shopping on it right now. Designers would be examining what is available as they completed their designs. We could find something similar to what we want, and plan on modifying it or designing around it. High schools would start planning their seasons based on what the regional and university theatres were producing first.

On my last two shows at Plymouth State University, I knew exactly what pieces would be GreenListed even before they were built. I put design drawings online before the show even opened. With enough traffic going through the site, a theatre could claim pieces before they are built, and pick them up at strike.

On the site, there are printable tags that read: "This Item Has Been GreenListed." At strike, we go through and attach one of these to every piece that is being listed as available online. The items then go into storage. For every piece we ask ourselves: Will we use it again soon? Are we willing to store it until then? If not, is it likely another theatre would claim it?
What has to happen now, though, is we need to get theatres using the site. There are some items listed now, but in order to get theatres using the site, we need to get a lot more items listed. This means promoting the site at conferences and festivals, and approaching theatres and technical directors.

Five people so far have committed to helping to promote GreenTheatre.net and GreenList. They are Ken Canfield with School of the Arts in Rochester, New York; Joseph Donovan with University of Maine; Max Lydy with University of North Carolina at Wilmington; Dave Reynolds with the Kings College Theatre Department; and me.

At this time, we are actively seeking people who are interested in promoting the site as committee members. We are also asking for all theatres--high school, regional, community, and university-- to subscribe to the site and begin listing stock. Any theatre or organization that chooses to endorse GreenTheatre.net regularly in its programs or publications will be listed within its region on GreenList.