News From
Student Chapters
Wyoming: Student Chapter Sponsors Local Charity Event
The Wyoming Student Chapter of USITT was recently honored by an anonymous donor who provided a sponsorship of the Wyoming Downs Syndrome Association's Annual Buddy Walk on behalf of the Wyoming USITT Student Chapter.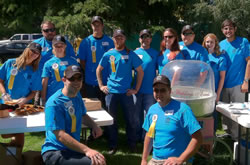 The Wyoming USITT Chapter was delighted to take part in this heartening event. Throughout the day, members participated as volunteers serving free popcorn, snow cones, and cotton candy to well over 1,000 participants. The student chapter was supported by theatre and dance faculty as well as fellow students.
The Buddy Walk was developed by the National Down Syndrome Society in 1995 to celebrate Down Syndrome Awareness Month in October and to promote acceptance and inclusion of people with Down syndrome. The Buddy Walk has grown from 17 walks in 1995 to nearly 300 walks planned for 2011 worldwide. In 2010, more than $11.2 million was raised nationwide to benefit local programs and services, as well as the national advocacy and public awareness initiatives of NDSS that benefit all individuals with Down syndrome.