Conference & Stage Expo
Stage Expo Moving Closer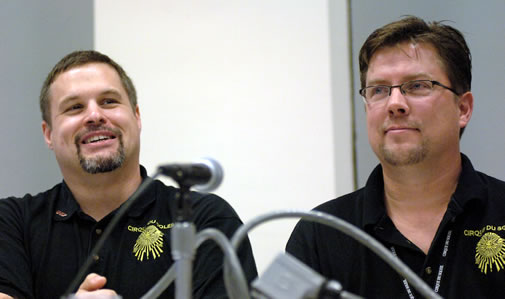 In addition to exhibiting at Stage Expo, many companies and organizations sponsor and present programs at the conference. Some programs are co-sponsored by USITT Commissions and exhibitors; other sessions are developed by the Commissions with exhibitor personnel as presenters.
Several of these were described in the August issue of Sightlines. Here are brief descriptions of some additional sessions which will be presented by exhibitors in Long Beach from March 28 to 31.
New Transducer Technology Enhancing the Theatre Experience
Sponsored by Alcons Audio
The seminar will explain in a popular, scientific way the history and background of this "new" transducer technology for reproducing mid- and high-frequencies, enabling HiFi sound at theatre sound pressure levels. Learn why performing arts theatres around the globe are adopting this technology for sound reinforcement. Practical applications are explained with real world implementations.
Static & Video Projection of Video on Your Stage
Sponsored by Apollo Design Technology
Video and gobo projections are terrific visual environments for a show but require some new and "mysterious" equipment as well as design consideration. This panel will discuss and demonstrate various tools from readily available equipment to digital content that the lighting designer has available to project various design elements on the stage. The discussion will include designers' experiences about how they integrated video and static projections in their shows.
Rigging Fundamentals
Sponsored by JR Clancy
Join JR Clancy for a discussion on rigging basics, techniques, and tips. Topics will include counterweight rigging operation, inspection and maintenance, show and scenery rigging for a counterweight house, and a question and answer session.
Projection & Effects Done the Easy Way
Sponsored by Rosco
Media servers, HD video, and LED curtains step aside. Creating layered projections with gobos is still the most common and successful way to add depth and detail to stage lighting. Explore the range of tools available to build exciting and creative lighting effects with conventional tools such as glass gobos, custom slides, rotators, and animation wheels.
New Language of Color
Sponsored by Rosco
In a new world of lighting, specifying color choices is much more than the once simple act of choosing a gel number from a swatchbook. Whether dialing in CYM values in a moving light, defining palettes on a console, or attempting to match an LED fixture to a par 64, the event will de-mystify the science and process of these new languages of color.
Alternative Projection Screen Materials
Sponsored by RoseBrand
Projection has gained widespread use in theater and the entertainment industry. This session will look at a range of alternative materials that can be used as projection surfacesTraditional and new screen surfaces will be discusses as well as and what to look for in a surface to get good results without blowing the budget. Some unusual fabrics have been used as projection surfaces with interesting results.
Plan to join the Annual Conference & Stage Expo in Long Beach March 28 to 31 for these and many other sessions. Exhibitors interested in submitting a proposal for an exhibitor-sponsored program at the 2013 Conference & Stage Expo in Milwaukee should contact Helen Willard at hpwillard@aol.com for more information.