News From
Regional Sections
Southwest: Winter Symposium Slated January 14 to 15
The Southwest Regional Section is preparing for its annual winter symposium to be held on the campus of Oklahoma State University in Stillwater. Two days of workshops are planned over the Martin Luther King Jr. holiday weekend January 14 to 15 with a get together on the evening of January 13. Scheduled are hands-on workshops in scene painting, foam carving, wig ventilation, rendering techniques, mask making, rigging, WZYWIG, and tech olympics. A special invitation is extended to the Section's neighbors in the Heart of America Regional Section. Check the Southeast website at USITT-SW.org for current information.

Ohio Valley: Ohio Valley Section's Conference a Hit!
The Ohio Valley Regional Section had a very successful Conference September 24 at Allegheny College in Meadville, Pennsylvania. The Peggy Ezekiel Design Exhibit had a strong showing of entries. The list of awards can be seen on the Ohio Valley website.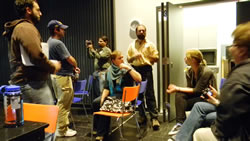 The Conference hosted a wide range of presenters from Vincent Lighting sessions on moving light maintenance and lighting rental package assessment to Ray Kent from Westlake Reed Leskosky's session on 3D projections. Other hot topics included Blogging and Storyboarding, Flying FX, and Google docs.
OVS extends huge thanks to Michael Mehler, Jim Summerfield, Scott Choffel, and Allegheny College for hosting this year's conference. Thanks also go to the Ezekiel Committee, adjudicators, student volunteers, and all the Board Members who contributed to the success of the Peggy Ezekiel Exhibit and the conference.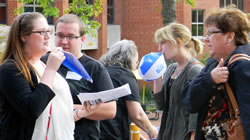 The spring event this year will be a Digital Photography for the Stage workshop with William Kenyon from Penn State University in his new photo lab. Bring a camera and learn how to get the most out of each and every production photo. Keep checking the website for updates on this exciting event.
The OVS National Conference Scholarship is available. This scholarship is intended for students who plan on attending the Annual USITT Conference & Stage Expo as an educational opportunity to further their career goals. This year the awarded amount will be $500. For an application and all the rules and regulations, visit the Ohio Valley Website.
For Suggestions on future programming for OVS, contact Tammy Honesty or Brian Morgan at usittohiovalley@gmail.com.
Photos/Elynmarie Kazle
Heart of America: Exciting Fall Workshops
Approximately 25 participants attended the Heart Of America Regional Sections's Fall Workshops at Avila University in Kansas City, Missouri. Workshops included a history and current technology of fall arrest systems by Mark Damon of Process Marketing Group; model making by Robbie Jones of the University of Nebraska, Omaha; DMX troubleshooting by Rick McConnell of Kansas City's XS Lighting; rigging load calculations by Ben Stark of Kansas State University; using theatre skills for other industries by Michael Downs of Downsart; entrepreneurship and stage weapons by Ed Baker of Wichita State University; and Michael Downs, Ben Stark, and Darren Levin of Kansas State presenting various portfolio techniques and examples. Saturday's events were followed by several members seeing August: Osage County at Kansas City Repertory Theatre at UMKC.
Northern Boundary: Cross-Section Invitations
Members of the Northern Boundary Regional Section were invited to participate in the recent Midwest section event. Sherry Wagner-Henry, a NBS member noted, " It's always a pleasure to participate in events of the Institute and get to know more of our colleagues from around the country--extending an opportunity to folks who are already geographically close is a great way to build even further on that spirit of collegiality. I wish I could participate, but our son is turning seven years old that day and already has a birthday bash planned. I love American Players Theatre and often forget what a wonderful resource it is at just a few hours away. Many thanks for thinking of us."
Chesapeake: Holds 22nd Stage Expo, Mini Conference
On September 24, the Chesapeake Regional Section celebrated its 22nd annual Stage Expo and Mini Conference at Towson University in Towson, Maryland. Chris Ashworth, founder of Figure 53 (Qlab), was the keynote speaker and stayed for a very well attended Q and A session.
There were over a dozen workshops ranging from specialized puppet construction to Photoshop for scenery to USITT chapters on College Campuses. For the second year, the "Nano Reach, No Riders" rain gutter regatta fundraising event took place to raise money for Behind the Scenes. This year, riders for Long Reach, Long Riders were on site along with Moe Conn's Harley to help with some additional fundraising for the Section to contribute to Behind the Scenes.
Newly elected officers include Gregg Schraven of University of Maryland-Baltimore County as Treasurer and Moe Conn of Community College of Baltimore as Member at Large. The Section thanked Gregg Hillmar for many years of service, most recently as Treasurer, and Randy Whitcomb for four years as Member at Large. Both are moving to new positions with the Board in Committee work for Membership and Planning, respectively. The Section would also like to thank the vendors that attended and helped make this Expo possible: AKT3, Barbizon, 4Wall, Parlights, and Vectorworks.
Announcements will be going out soon for the evening meeting at USITT's Annual Conference & Stage Expo in Long Beach and for the date and location of the 2012 Chesapeake Expo. The section thanks all those who attended, and notes that "if you couldn't, we will see you next time!"