News From Joe Aldridge, USITT President
Connections Made, Renewed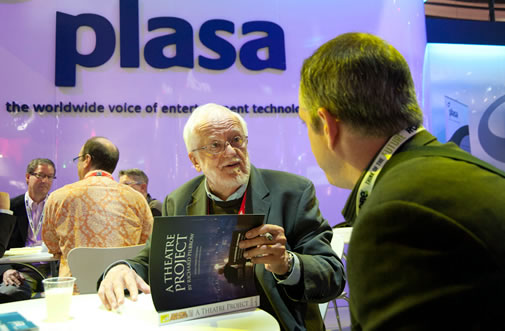 On the day that the last issue of Sightlines was made public, I received e-mails from several of the folks that I met at the CITT Rendezvous thanking me for the mention of my experiences in Victoria. Once again, I extend my congratulations to CITT, its officers, and its members for hosting such a wonderful experience for me and other attendees.
September 10 through 14, I traveled to London to attend my first PLASA conference. USITT purchased a booth, and so I joined David, Monica, and Barbara to staff it. It also gave me an opportunity to help recruit potential new exhibitors for our conference. We had a number of USITT members attending and a number of former exhibitors who welcomed the personal invitation to renew their membership. Potentially, we will see at least a half-dozen new exhibitors in Long Beach. While similar to LDI, PLASA has a unique quality that other conferences do not possess. It seems that most exhibitors were thoughtful enough to host an open bar in their booths. Happy hour was from opening to close of the exhibit floor. I was asked who had the Guinness more often than I was asked directions to any particular booth!
I wish to offer my congratulations to USITT member and Fellow Richard Pilbrow for being selected for the Association of Lighting Designers 2011 Knight of Illumination Lifetime Achievement Award. Well done! Richard attended PLASA and was signing copies of his book, which he will also do at the Long Beach 2012 Conference & Stage Expo.
During October, the Institute will prepare for the November Board meeting, which is to be held in Syracuse. The Board meeting will occur on Friday, November 11 with the full Board in attendance. On Saturday, various committees will convene for the morning and a Board retreat will be held in the evening. This meeting will not be available via teleconference since it is a scheduled meeting.
The rigging safety initiative is moving along very well, and we are preparing to begin accepting applications for the third round of submissions. If you know of any secondary school in your area that would benefit from a rigging assessment, encourage them to apply. We are looking forward to continuing this program and aiding needy programs. There is no reason that the future practitioners of our art should have to learn under potentially dangerous conditions.
If you happen to have been at LDI, I hope that you took the opportunity to drop by the booth and visit with the staff and officers representing the Institute.