News From
Around the Institute
The Cling as 'Bling'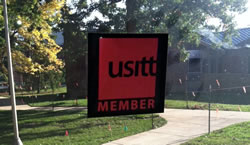 We thank USITT Treasurer Travis DeCastro for passing along this photo of how he is displaying his USITT Member window cling. Not only do we enjoy seeing what his view looks like, but we appreciate knowing that his "cling" is showing those passing by that he is proud of his membership.
Want to share your view, or how your cling is used, with Sightlines readers? Just take a photo and send it along to barbara@office.usitt.org.
Special Fun at Master Classes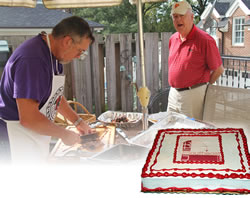 Former President Carl Lefko showed off his special talents not as a designer, but as a master of barbecue as a special part of the 2011 Southeast Regional Section Master Classes.
While Carl was the master chef, reports are that he was ably assisted by Clif and Sylvia Hillyard Pannell. For this special occasion, Sylvia even had a cake created to help fly the USITT Southeast colors!
Grindle at Southeast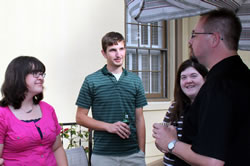 We will include a more complete report on the serious side of the Southeast Master Classes in an upcoming issue of Sightlines, but until then, reports from all in attendance, including USITT Executive Director David Grindle, are that the facilities at the University of Georgia in Athens and host Rich Dunham were outstanding!
Richard Pilbrow 'Knighted'
Richard Pilbrow was honored as part of the 2011 PLASA show in London. Mr. Pilbrow received a standing ovation when he was honored for his lifetime of work as a lighting designer from the West End in the 1950s to the new National Theatre and beyond.
Mr. Pilbrow is the fourth person to receive the Knight of Illumination award. In announcing the award, designer Durham Marenghi said Mr. Pilbrow had inspired several generations of lighting designers ever since establishing the United Kingdom's first lighting design company in 1957.
At the podium, Mr Pilbrow said, "We lighting designers have been rather belatedly seeking a little more recognition. When I began, nobody really wanted me at all."
Each winner receives the traditional Knight of Illumination trophy, an authentic medieval battle sword hand made in Toledo, Spain.
Scenofest Images
We have had several people comment on the dramatic images which accompanied the report on Scenofest in the October issue of Sightlines. We thank Chris Van Gothem for both taking the photos and allowing us to use them.