News From
Contributing Members
HSN: HSN Welcomed
We welcome HSN, based in Florida, as a new Contributing member of USITT. Rick Juliano, director of sets and lighting, is the contact person for the Florida-based television network.
Meyer Sound Laboratories, Inc.: Executive VP Recognized, Legacy Equipment Used in Anniversary Production
Helen Meyer, executive vice president of Berkeley, Calif.-based Meyer Sound, was recognized with the 2011 InfoComm International Women in AV Award. At ceremonies held on September 23 in conjunction with the InfoComm 100 conference in Portland, Oregon, Ms. Meyer accepted the accolade with the other winner this year, Erin Bolton, partner and strategic development for Pivot Communications. Now in its third year, the Women in AV Award acknowledges female AV industry professionals who represent a strong entrepreneurial spirit and excellence in technology management.
Along with her husband John Meyer, Ms. Meyer co-founded Meyer Sound in 1979. In her role as executive vice president of the privately held professional audio manufacturer, she is principally responsible for the operations, sales, and marketing, as well as the long-term growth strategies of the company. Meyer Sound products are used by some of the best-known names in music and entertainment including Metallica, Céline Dion, and Cirque du Soleil.
She has received numerous awards including a Citation from the Audio Engineering Society and "Woman of Distinction" from the East Bay Business Times. Honors shared with John Meyer include the MIPA Lifetime Achievement Award and the USITT Harold Burris-Meyer Distinguished Career in Sound Award. Among her many professional and community activities, she serves as a board member of the Berkeley Repertory Theatre and the Mark Morris Dance Group.
The Broadway classic comedy How to Succeed in Business Without Really Trying has been recently resurrected in a 50th anniversary production at the Al Hirschfeld Theatre in New York City. For sound reinforcement, the non-powered UPA-1C loudspeakers, a Meyer Sound legacy product which was released in the early 1990s and is longer in production, was specified.
The UPA-1C loudspeaker was a favorite among sound designers before Meyer Sound pioneered self-powered loudspeakers in the mid-1990s to incorporate onboard amplifiers, processing, and control circuits. Many of Meyer Sound's self-powered systems have since become a staple in touring sound and on Broadway, including the UPA-1P, the self-powered version of the UPA-1C loudspeaker.
Production Resource Group (PRG) provided the UPA-1C system. Its large Meyer Sound inventory also includes a number of newer products that are regularly heard on Broadway shows.
The present incarnation of the Pulitzer Prize-winning musical How to Succeed in Business Without Really Trying stars Daniel Radcliffe (of "Harry Potter" fame) as J. Pierrepont Finch, a window washer who climbs the corporate ladder thanks to Shepherd Mead's satirical self-help book of the same name.
More information about Meyer Sound is available at: telephone, 510-486-1166; fax, 510-486-8356; e-mail: winnie@meyersound.com; or www.meyersound.com.
Creative Stage Lighting: Named Outstanding Distributor
Creative Stage Lighting was named Outstanding New Avolites Distributor nearly six months after Avolites announced Creative Stage Lighting as its exclusive distributor in the United States. CSL sales director Kevin Loretto accepted the award during the PLASA 2011 show.

Phillips Group: Miller Named North American Sales Manager
In order to continue its worldwide operational realignment, Philips Strand Lighting and Philips Selecon has appointed industry-veteran Leonard Miller as North American sales manager.
Based in the Dallas, Texas headquarters, Mr. Miller has 25 years of professional experience in sales, operations, and technical production for live entertainment and events including theme parks and attractions, trade shows, museums, sports, television, film, and cruise lines. He will work closely with Julie Smith, general commercial manager, and Pete Borchetta, product marketing manager, to form the leadership team to guide Philips Strand and Selecon North American Sales and Marketing.
Additionally, Kara O'Grady was named Mid-Atlantic regional sales manager, covering the Mid-Atlantic Region of New York City, Long Island, New Jersey, Eastern Pennsylvania, Delaware, Maryland, Washington D.C., and Virginia. She has an extensive resume in the professional lighting industry which includes East Coast sales manager for Rosco Labs and Production Resource Group's Systems Integration Division. She received her BFA in lighting design and technical production from North Carolina School of the Arts, and then worked as an assistant lighting designer for the Opera Company of Philadelphia. She has been a lighting designer and programmer for many theater, dance, television, and corporate events throughout the east coast.
For the complete listing of Sales and Marketing team for Philips Strand Lighting and Philips Selecon North America, please visit www.strandlighting.com.
J. R. Clancy, Inc.: Pirate Antics Aided by Rigging 'Magic'
Two life-sized pirate ships, bands of swashbucklers sword fighting across a 15-foot-deep lagoon, sails unfurling, and props descending from the sky–there's nothing like a major family entertainment attraction to challenge every aspect of theatrical production.
So when Mike Compton of Pirates Voyage took on the challenge of bringing the new attraction to life in Myrtle Beach, South Carolina, he knew he needed the rigging experts from J. R. Clancy, Inc. To raise and lower the massive set pieces, Clancy supplied 11 custom-built, variable-speed drum hoists, each with 750-pound capacity and a blazing top speed of 416 feet per minute. With seating on every side of the arena, the hoists would be in full view at all times, so the hoists are mounted to the side of the catwalks, and diverting loft blocks are mounted from the roof steel to get the lines to drop in the proper locations. There are four types of hoists, each designed differently to get the proper space and capacity requirements for the different scenic elements. The hoists lower such pirate-specific props as anchors, skeletons, and a throne into view at dramatic speeds to delight the audience.
More information about J. R. Clancy, a wholly owned subsidiary of the Wenger Corporation, is available at www.jrclancy.com, or by calling 800-836-1885.
Rose Brand: Offers Embossing Process, New Scholarship
Rose Brand's new Foil Embossing process turns ordinary fabric into a custom creation with intricate metallic patterns that reflect light magnificently. Customers can design their own pattern or select from Rose Brand's in-stock items. The process works on almost any fabric up to 54 inches wide, including stretch fabrics. Both the foil and the adhesive are flame retardant. Rose Brand's most popular stock patterns are the Crackle Tendo and the Sparkle Tendo. These patterns work great for creating eye-catching stretch shapes. Click here for more information, or call a Rose Brand sales representative.
Rose Brand has created the Rose Brand Scholarship Program to award $5,000 to a student. A Rose Brand credit for $2,500 will also be given to the student's school to help enhance the theatre program. The scholarship is intended for students who wish to pursue a career in scenic design, theatre direction, or scenic art. Applications are now available. Visit Rose Brand's Facebook page for more information on how to apply.
ETC: ETC Congo lights up Moscow Art Theater Named for Chekhov
The Moscow Art Theater named for A.P. Chekhov has been a staple of Russian theatre in some form since its first performance in 1898. With a repertoire of both foreign classics and Russian favorites, the Moscow Art Theater also stays true to its namesake, staging the highest caliber productions of Chekhov's works. To ensure the lighting for the shows shines as brightly as the stars on stage, the Moscow Art Theater employs an ETC lighting system.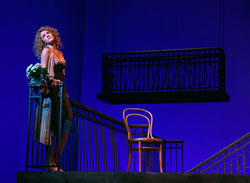 In 2003, the theatre's old system was replaced with ETC products including two ETC Congo control consoles at its forefront.
Since 2004, the lighting for every show on the main stage has been controlled by the Congo consoles, including recent products such as The Humpbacked Horse, Three-Cent Opera, Pickwick Club, These Ghosts and The Cherry Orchard. The Moscow Art Theater's current season is packed with performances and tours, and the ETC system guarantees spectacular lighting every step of the way.