Welcome to Egypt: Designing for the American University in Cairo
The wheels of the plane touched down and bounced back up, touched down and bounced up again. Finally, the third time, the plane landed on solid ground. It was difficult to tell with all the blowing sand. ..I had arrived in a khamsin (a sand storm) in the Sahara Desert. Welcome to Egypt!
So why was I in Egypt? I was invited to design the lighting for The Department of Performing and Visual Arts' first theatrical production, School for Wives, in its new theatre, the Malak Gabr Arts Theatre (named for a 14-year-old theatre student by her father whose donation made the facility possible). For me, this was a dream come true. I am certainly not the first lighting designer to have the pleasure of designing for the AUC; USITT member Dick Devon has designed many productions at the university. However, ever since reading my first ArtSearch many years ago, I have been intrigued by the few-and-far-between ads for positions at the American University in Cairo. After a vacation in Egypt about 10 years ago, I became even more intrigued because I fell in love with the country and its people.
Two years ago, my friend David sent an e-mail telling me that he and Michele were moving to Egypt. I replied back that if he ever needed a lighting designer to give me a call. Well, last summer I was asked if I was available to be the visiting artist in residence for a month this spring. Having left my full-time job at Pomona College for the life of a freelance designer, I immediately said, "Yes!"
After getting off the plane, I was delighted to see my name on one of those placards. It was held up by a man named Zamir who hustled me through immigration. We quickly got my extra-heavy baggage (in addition to my clothes, it was stuffed with hats and corsets for the production and jars of peanut butter, Gold Bond powder, muffin mixes, and other assorted goodies for my friends with whom I would be living). Zamir passed me off to a driver, and we went roaring and tailgating through the roads outside of Cairo. The drivers here have their own system, the lines in the roads are "guidelines" that most drivers ignore. I was reminded how exciting it is to ride in a car in Egypt…just sit back and relax and you will make it to your destination, enshallah (God willing).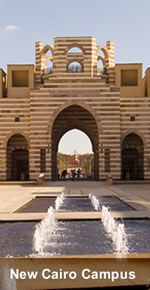 We found our way to El Rehab City, a gated community located in New Cairo, approximately 45 minutes from Cairo, where I would be living with David Wlordarski, the production manager/technical director for the American University in Cairo, and his lovely wife Michele. They moved to their spacious apartment when the American University in Cairo relocated to its new campus last fall. Founded in 1919, the AUC (which is the region's premiere English language university) relocated the majority of its university from its Tahrir Square campus due to "overcrowding and institutional fragmentation."
That night around midnight, I got up to use the facilities and, as I was washing my hands, gunshots rang out. I looked at the frosted window and saw the bluish flashes of light and thought, "I wonder who they're aiming at?" I went in to the extra bedroom and peeked out of the window and saw four men walking away. I went back to bed and thought, "Welcome to Egypt!"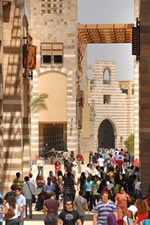 The next morning, David mentioned the gunshots sounded like an AK-47. He said it was a very rare occurrence and speculated that they were probably shooting rats or rabid dogs. Oh goodie. We boarded the bus, which is the main transportation to and from the University for the faculty, staff and some students. The university provides bus service from a variety of places in and around Cairo. After a 20-minute drive through the Sahara Desert outside of Cairo (which is undergoing a major construction boom), we arrived at the beautiful new 260-acre AUC campus. Concrete, marble, and wood combined in geometrical patterns create modern buildings based on traditional Egyptian looking-architecture. The central walkway goes from one end of the campus to the other and provides an open breezeway which helps cool off the sunny campus during the hot summer months. The Department of Performing and Visual Arts (art, film, music and theatre) is located in the AUC Center for the Arts. In addition to the 300-seat Malak Gabr Arts Theatre, it houses the Sharjah Art Gallery; the Gerhart and Howard Theatres; labs for electronic music and photography; studios for drawing, painting, sculpture, and theater design; and studios for music and film editing and production.
After months of communicating via e-mail, it was lovely to finally meet the terrific faculty and staff I would be working with: Stancil Campbell, scenic designer and chair of the Department of Performing and Visual Arts; Jeanne Arnold, costume designer and director of the Theatre Program; Frank Bradley, professor and School for Wives director; professors Mahmoud El Lozy and Leila E. Saad (both of whom were acting in School for Wives); Lecturer Elissa Stankiewicz; and master electrician Samy Shawky and his assistant Ehab Shehata. David took me on a tour of the facilities, and when we arrived at the Gabr Theatre I was delighted to find that Samy and Ehab had completely hung the preliminary light plot that I had sent a week before my arrival.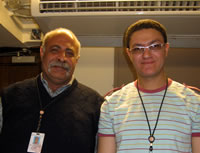 AUC master electrician Samy Shawky and assistant master electrician Ehab Shehata.
That evening I attended a run-through of School for Wives. Heavily jet lagged, it was amazing that I got all of the cues in my script. The play was in great shape, (except for the lead who had the flu). We were three weeks away from opening. Since the plot was hung, the next day we started focusing lights. Unfortunately I didn't have a complete section of the theatre when I designed the plot; I had guessed wrong about the height of the anti-pro positions, and we had to replace about 12, 26-degree Source Fours with 19-degree barrels. Samy and Ehab were not upset, in fact they truly took great pleasure in their work. Samy told me he would rather work hard than just sit around doing nothing. Samy and Ehab were excellent electricians, and we had fun working together. Samy spoke better English than Ehab, so he translated some words to Ehab. I started writing theatrical terms down in Arabic on my Cheat Sheet. I like to try using some of the language of the country I am working in as much as possible; however, Arabic is very difficult, and while I couldn't pronounce them too well, Samy, Ehab and I had a great laugh whenever I tried.
It was a delight working with USITT members Mr. Campbell, Jeanne Arnold, and David Wlodarski. Jeanne's costumes were lovely. She has only one staff member who works with her in the costume shop, so she relies heavily on students to help her build the majority of the costumes. For this production several custom made period suits, beautiful dresses, corsets, skirts and blouses, hats, suspenders, and spats combined to create a professional and artistic look for all the characters.
Stancil created a most unusual and exquisite scenic design for School for Wives, a serene wild garden, and David and his crew did an excellent job getting it built. The stage floor was painted in an intricate cobblestone pattern with an oval pool downstage. A very large and ornate metal gate opened in the middle giving access to a wooden bridge, which led up and over a three-foot wide stream to a door in a huge trunk of a tree (which housed the servants). The water in the pool and stream helped create the wild garden feeling and the actors loved it.
The tree had two large branches, one created a stairway up to a lovely Faberge egg perched atop the tree trunk (where Agnès lived), which opened and closed "magically." (Okay, there were two members of the crew in the trunk performing the "magic.") The other branch provided the support for a tree swing. Silhouettes of large branches laden with hanging moss arched over the trunk. One afternoon, we watched in awe and amusement as a crew of about 15 men from the AUC Desert Development Center delivered and artfully placed five 20-foot high trees and a variety of huge bushes upstage and around the scenery, thus completing Stancil's wild garden setting.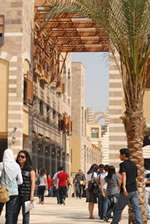 Working with the students was great. My student assistant, Kareem Kassem, was a directing major and apparently a minor movie star in Cairo. His interest in lighting was limited, but he was willing to help out and became my model for setting cues and taking notes during dress rehearsals. Our stage manager, Haya Abdulrahim, was excellent. She and her Assistant Stage Managers Berfu Teapot and Nadeen Lotayef did a great job pulling a complex show together in a short amount of time. My board operator Lina Mawaheb had fun learning a new skill from Samy and did a fine job. The students at AUC reminded me of students at Pomona College -- smart, many seemingly from privileged families, and studying theatre because they love it.
The afternoon of opening, I had the privilege of having tea from what Stancil labeled "Samy's Café," a kitchen facility located on the second floor balcony near the theatre's control booth. Samy brewed the strong tea and added sugar. David, Ehab, Samy, and I sat in the shade looking out over the Sahara desert and toasted each other for a job well done.
That night when the curtain came down, there was an immediate standing ovation. School for Wives was a hit; the audience loved it! Due to the hard work of David, Stancil, Jeanne, Frank, Samy, Ehab, the staff, the students, the volunteers, the cast, and the crew, we got to celebrate the opening of the play and the opening of a brand new theatre. Welcome to Egypt.
Shukran (thank you) to the faculty, staff, and students at the American University in Cairo for making my dream of working at AUC come true and for providing me with such an exceptional design experience. A special thank you to David and Michelle for being such wonderful hosts. I felt right at home.
To Top

Donna Ruzika fulfilled a long-time desire to design lighting for a production in Egypt and shares her experiences with Sightlines readers. Shown above is a depiction of the night scene, complete with plants, but without all of the parts of the "egg" which is shown as just the frame, not the cover.
Photo/Ehab Shehata