Offer ETCP Exams at Conference, Posters Available
USITT will provide space for ETCP examinations to be held during the Annual Conference & Stage Expo in 2009. Many major venues and employers across North America are now requiring ETCP Certified Technicians for lead positions. ETCP also offers posters promoting the certification exams.
Electrical, arena rigging, and theatre rigging examinations will be held in a paper and pencil format, at the Conference. The Entertainment Electrical Exam will be held at 2 p.m. March 20; Arena Rigging Exam at 9 a.m. Saturday, March 21, and Theatre Rigging Exam at 2 p.m. March 21 in Cincinnati, Ohio.
Interested applicants must submit their application, along with supporting materials and fee, postmarked by February 27. Space is limited, applications should be submitted immediately.
For more information, eligibility requirements, or to obtain an application, contact Meredith Moseley-Bennett, ETCP certification coordinator, at certification@esta.org or 212-244-1505. Complete information is also available on the ETCP website.
Those unable to attend USITT's Annual Conference & Stage Expo may apply to take an examination at one of over 190 testing centers in the U.S. and Canada on most business days.
•
Posters promoting the ETCP certification exams are 24 inches by 36 inches and define the eligibility requirements and target audience for each exam. The posters also include full content outlines for the theatre rigger, arena rigger, and entertainment electrician examinations. Display posters in meeting halls, break rooms, or backstage. To request posters, or for information about the program, contact Ms. Moseley-Bennett.
To Top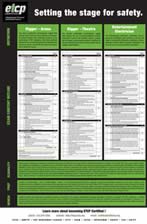 Posters explaining the importance of ETCP certification are now available from the ETCP website.