Curtain Call Exhibit Highlights Women Theatrical Designers
A new multi-media exhibit in New York City, Curtain Call: Celebrating a Century of Women Designing for Live Performance was unveiled November 17 in the New York Public Library for the Performing Arts' Donald and Mary Oenslager Gallery, 40 Lincoln Center Plaza. A joint project of the Library and the League of Professional Theatre Women, the exhibit spotlights the work of 140 women who designed sets, costumes, lighting, and innovations.
The exhibit runs through May 2, 2009.
The exhibit features treasures from the Library's archives as well as items on loan from the Museum of the City of New York and other individuals and organizations. It was conceptualized and co-curated by award-winning costume designer Carrie Robbins in collaboration with performance historian Barbara Cohen-Stratyner who is the Judy R. and Alfred A. Rosenberg Curator of Exhibitions of the Performing Arts Library. Ms. Robbins' designs for the upcoming Broadway production of Irving Berlin's White Christmas - The Musical are included in the show.
Workshops, films screenings, and a full slate of public programs will be scheduled for early in the year.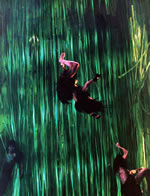 Lighting design by Natasha Katz for Tarzan.
Photo/Joan Marcus, photographer, Disney Theatricals.
Among the hundreds of items on display, visitors of all generations will recognize objects of enchantment from every realm of live performance. There is the gown in which Constance Towers' Anna waltzed with Yul Brynner's King to Shall We Dance? and Glinda's blue Dior-inspired number from Wicked; Richard Burton's casual Hamlet garb; Hume Cronyn's ass's head (as Bottom at Stratford, Ontario); and the wings from Angels in America. Constructions of skill and imagination become Beauty and the Beast's Lumiere on stage, a fire-eyed flying Beelzebub from the Oregon Shakespeare Festival's Dr. Faustus, and a Passion Play Queen Elizabeth so elaborate it comes with a multi-page instruction guide. There are intricate set models from shows and operas which many people have experienced full size including Spring Awakening, Avenue Q, Tom Sawyer, and An American Tragedy.
Visitors will see how innovations in lighting developed, from Beatrice Irwin's correspondence with Ruth St. Denis to Jean Rosenthal's legendary lighting plot for Billy the Kid, to video demonstrations of the new wave of projection artists.
Several of the designers themselves are present on film and videotape. "To see and hear these women speak about how they came to their work, the people and productions with which they've been involved, and the creative and professional hurdles they've cleared is inspirational," said Joan Firestone, exhibition project director on behalf of the League and past co-president of that organization.
Drawing original materials from the Library's collections as well as items on loan from the Museum of the City of New York, the José Limón Dance Foundation, the Martha Graham Dance Company, several North American regional theatres, and individual designers, the multi-media exhibition features costumes of every kind and era, set models with their accompanying boxes full of handmade miniature denizens and décor, lighting plots, sketches and illustrations, research notes, fabric swatches, presentation renderings, costume bibles, production photographs, props, festival figures, autographed Broadway Bears from Broadway Cares/Equity Fights AIDS, correspondence, and interviews and performance videos.
The exhibition catalogue, edited by Alexis Greene, includes essays by both curators with an introduction by theatre historian Mary C. Henderson; graphic design is by Linda Florio.
Exhibition hours are: Monday and Thursday from 12 p.m. to 8 p.m.; Tuesday, Wednesday, and Friday from 11 a.m. to 6:00 p.m.; and Saturday from 10 a.m. to 6 p.m.; closed Sundays and holidays. Admission is free. For exhibition information, call 212-870-1630 or visit the Library's website at www.nypl.org.
To Top