Gifts That Keep Giving
USITT has completed its second year of active gifting in celebration of USITT@50, Securing Our Future. USITT helped to advance the careers of members in 2006-2007 with over $57,000 in support recognizing excellence. The Institute was able to do this in large part because of the contributions from hundreds of individuals and organizations over dozens of years.
What are the results of gifts chosen annually through membership renewals or Conference registration? These contributions build the principal that provides dividends to fund needed student activities, international study and travel, and research grants or fellowships. Additionally, there are nearly 100 members actively supporting the Five-Year Gifting campaign, plus long-term and annual, significant corporate and individual support for the Young Designers & Technicians Awards, The Rising Star Award, and the unique Student Study Awards for the 2007 Prague Quadrennial.
This commitment to recognize and reward excellence in the profession is one of USITT's highlights each year. Most importantly for 2006-2007, a total of $57,000 made a difference for more than 25 individuals in the USITT community. These include:
the Rising Star Award for $1,000;
ten Young Designers & Technicians Awards totaling $10,500;
Edward F. Kook Research Fellowship for $15,000;
six PQ Study Tour Awards totaling $16,350;
two Scripps International Activities Fund Student International Travel Awards for $2,000;
two Student Chapter awards for $300; and
three Awards from the Commissioner's funds totaling $12,527.
Annual gifts from membership forms and conference registration this past year totaled $17,816, $2,447 in support of Kook, $500 in support of Scripps, $12,546 in support of New Century Fund, and $2,323 in support of USITT Fund. The USITT @50 Five-Year Campaign resulted in an additional $19,950 toward building the principal of these various funds.
USITT began to build the principal for a single award over 25 years ago. It is now realizing the benefit of that wisdom. In the spirit of the 50th year celebration, members are encouraged to consider an annual contribution on one of the forms they complete each year.
These gifts have greater meaning each year as USITT continues to build the principal that funds these awards. Join us in gifting to USITT each year and continue celebrating the excellence of our membership! Members who benefit, now and in the future, join in sending their thanks for these acts of generosity.
To Top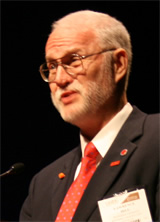 Lawrence J. Hill, former USITT Treasurer, has been promoting the USITT@50 campaign to ensure the Institute's future financial security. Above, he speaks at the USITT Annual Conference & Stage Expo in Phoenix, Arizona.

Photo/Tom Thatcher