Staff Profile:
Ashley A. Austin
It's an obvious conclusion that USITT has a new triple A staff member, with the addition of Ashley A. Austin as the administrative assistant in the National Office in Syracuse, New York.
Ms. Austin, a May 2007 graduate of LeMoyne College in Syracuse, managed to complete her degree in international relations in three years. Even more amazing was she accomplished that feat while working three jobs. One of those jobs had her traveling throughout the northeast assisting with marketing a wide variety of products including yachts. That travel helped her decide she wanted to stay in Syracuse after graduation.
Not everything in Ms. Austin's life runs in threes, however. She only has one sibling, and she only minored in two subjects, anthropology and Italian. That knowledge was extremely helpful when she took a month-long break after graduation and visited family and friends in Italy.
A native of Syracuse, she grew up in Virginia and then moved back to Central New York to attend high school and then college.
For USITT, Ms. Austin will be the primary person responsible for answering questions and directing people to the correct staff member or officers for a response. She is also working with Carol B. Carrigan on the upcoming transition to electronic voting for the 2008 election, and on assisting with the awards process for the Rising Star Award, Awards for Young Designers & Technicians in the Performing Arts, and Distinguished Achievement and other USITT awards.
Away from the office Ms. Austin enjoys the outdoors, for which Central New York is ideally suited. In addition to skiing and boating, she spends time scuba diving in area rivers such as the St. Lawrence, and in other nearby bodies of water including Green Lakes, a glacial plunge pool where fauna includes freshwater sponges. She loves to read, especially political science and history, and is the proud owner of Princess Lola the cat, and Lucy, her recently-adopted canine companion.
Ms. Austin looks forward to working with USITT members and volunteers. She will be introduced to many in the Institute's hierarchy when the Board of Directors, Executive, Finance, and Publications committees meet in Syracuse in mid-October.
To Top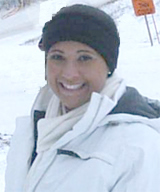 Ashley A. Austin spent some time last winter on the slopes at Lake Placid, New York.