Officer Profile: Daniel Denhart
Daniel Denhart, who became USITT's Vice-President for Special Operation in July, has a long history of having long associations with people, places, and organizations. Although this is his first elected office within USITT, Mr. Denhart has been a member for more than 20 years and has been helping shape the Annual Conference & Stage Expo for 10.
Not only that, but he's been married to the same person for 24 years, living in Athens, Ohio; with the same children (even if their number has increased.). While he has also been at Ohio University for all those years, he has made sure to have experiences outside OU to give validity to his teaching, and has expanded his reach to include designing heavily in summer theatre programs, and as a freelance consultant in venues from churches to performing arts centers.
Ever since he served as USITT's first Special Exhibits Coordinator in Pittsburgh in 1997, a position he held through 2001, he has felt he was offered more and more responsibility and was getting to know more about the organization. Normand Bouchard, then VP Special Operations, talked to him about what might be possible if he wanted to be more involved. Since then, Mr. Denhart served as media resources coordinator for three years and played the crucial role of associate director and technical director for the first World Stage Design exhibition which USITT sponsored in Toronto in 2005.
"I've made such great contacts," Mr. Denhart said. "Even more important, USITT has been a vehicle through which I have gotten to know so many other professionals and made so many friends. If I get into something unfamiliar, I have a whole network of people to draw upon." He says one of the greatest outcomes of collaboration and networking with other theatre professionals and students is the variety of solutions that he has been exposed to: solutions that "for one reason or another may have escaped your consideration previously. It is also rewarding to offer your ideas in problem-solving situations."
He sees USITT as being a very collaborative organization that helps members not only keep up, but also to lead the charge for change. "We need incredibly technically savvy designers and administrators," he notes.
Since he has "a built-in party every time I go home," with six children ranging from a college senior to a third-grader, Mr. Denhart finds music to be a retreat and a great pleasure, mostly playing guitar. He also enjoys taking on construction projects in the shop "as time permits" and particularly enjoys finding the most efficient way to complete a project, and then using that in his teaching.
Mr. Denhart's entire range of skills, from carpentry to collaboration, to administration, will come into play in his new position within the Institute.
To Top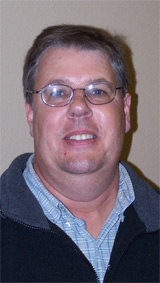 Daniel Denhart is USITT's new Vice-President for Special Operations. He took office in July 2006.

Photo/Barbara E.R. Lucas