David Ira Goldstein Named
2007 USITT Keynote Speaker
David Ira Goldstein, artistic director of the Arizona Theatre Company (ATC) will be the Keynote speaker for the 2007 USITT Annual Conference & Stage Expo in Phoenix, Arizona. The Keynote, which kicks off the 47th Annual Conference, is scheduled for 10 a.m., Wednesday, March 14, 2007 at the Orpheum Theatre in downtown Phoenix. The Orpheum is a few short blocks from both the Hyatt Regency Phoenix and the Phoenix Convention Center, sites of most major Conference activities.
ATC is Arizona's largest professional, not-for-profit theatre company with an attendance of more than 170,000 patrons each year. It is recognized as the State Theatre of Arizona, an honor bestowed on it in 1990 by then-Governor Rose Mofford. ATC currently stages productions in Tucson, in the Temple of Music and Art; in Phoenix, in the Herberger Theater Center; and in Mesa, at the Mesa Arts Center. ATC is the only LORT theatre in the country to be currently operating full seasons in two cities (the current schedule in Mesa, ATC's newest location, includes three productions, compared to the six-show seasons held in Tucson and Phoenix). ATC also does co-productions with theatres throughout the country, co-producing approximately 25 shows over the last nine years.
Mr. Goldstein has been artistic director of Arizona Theatre Company since 1992, a period of unprecedented growth in artistic programming, educational programs, and statewide support for the arts in Arizona. He has personally directed more than 30 main stage productions for ATC, ranging from classics to new plays to musicals, including Oh, Coward, Much Ado About Nothing, My Fair Lady, Valley Song, H.M.S. Pinafore, Side Man, The Mystery of Irma Vep, How I Learned to Drive, Scapin, The Two Gentlemen of Verona, The Illusion, A Midsummer Night's Dream, Other People's Money, and The Boys Next Door, as well as the world premieres of Inventing van Gogh, Rocket Man, Private Eyes, Over the Moon, and Dracula by Steven Dietz. As artistic director of ATC, Mr. Goldstein has produced more than 125 other main stage plays, workshops, and presentations including two acclaimed appearances by the Royal National Theatre of Great Britain. He received the 2003 Governor's Arts Award as Individual Artist for his contributions to the arts in Arizona.
Mr. Goldstein has been a guest director at theatres across the country including Kansas City Repertory Theatre, Berkeley Rep, Repertory Theatre of St. Louis, Alaska Rep, The Empty Space Theatre, Mixed Blood, Seattle Rep, The Children's Theatre Company of Minneapolis, Quicksilver Stage, Illusion Theatre, Portland Rep, and Tacoma Actors Guild.
Before coming to Arizona, he was associate artistic director of ACT Theatre in Seattle. His many productions there included Glengarry Glen Ross, Hapgood, Lloyd's Prayer, and the world premieres of God's Country by Steven Dietz, Willi by John Pielmeier, and a joint Soviet-American production of The Falcon. He was associate artistic director at Actors Theatre of St. Paul from 1983 to 1986.
Mr. Goldstein earned an MFA from the University of Minnesota. He has been a visiting instructor and director at Arizona State University, University of Washington, University of Minnesota, and University of Northern Iowa. He has served as a panelist for the National Endowment for the Arts, Theatre Communications Group, Arts Midwest, and the Arizona, Minnesota, Oregon, and Washington state arts commissions. He was a co-founder of Minnesota Young Playwrights and has been a site reporter for the National Endowment for the Arts for more than 20 years.
To Top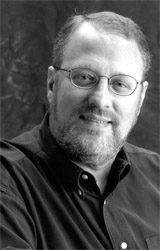 David Ira Goldstein
Artistic Director
Arizona Theatre Company