Sponsors Enhance
Conference Experience
Individuals attending the upcoming 2006 Annual Conference & Stage Expo can enjoy more activity and convenient services thanks in large part to the support of sponsors.
Don't miss Opening Night, the fun, informal networking reception held the first night. Attendees will enjoy tasty hors d'oeuvres compliments of:
AV Pro, Inc.
Electronic Theatre Controls (ETC)
SECOA
Texas Scenic Company
Use a Cyber Café to check your e-mail and surf the web at Stage Expo. This valuable service is made possible by:
Altman Lighting, Inc.
California Institute of the Arts
Live Design Magazine
Stage Research, Inc.
Join us in thanking these sponsors for the many ways they enhance the Conference. When you see the professionals representing these organizations in their booths or at events, tell them you appreciate their support.
USITT's sponsorship program at the Conference is coordinated by Michelle L. Smith, Membership & Ad Sales Manager. To learn more about how you can participate, contact her at the USITT office at 800-938-7488 or michelle@office.usitt.org.
To Top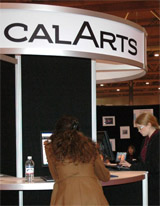 CalArts will again be a sponsor of a Cyber Cafe at Stage Expo, a great way to check e-mail during the 2006 Conference.

Photo/USITT Archive