The Mt. Vernon Senior High School Chapter of USITT hosted an automated lighting seminar January 21 and 22, 2006 at The Centre in Evansville, Indiana.
Forty-three participants -- including high school and college students, educators and industry professionals -- received programming training on consoles of their choice including the ETC Congo, Express and Obsession II, GrandMA, Flying Pig WholeHog IPC and Strand 300, and 520i consoles.
The seminar was led by Richard Cadena, editor of Projection Lights and Staging News. It featured training by Robin Cross of Cross Lighting; Sarah Clausen and Spencer Lyons of ETC; Abby Downing, Rob Holland, and Jim Tutorow of On Location Lighting; and Matt Klasmeier and Chuck McCafferty of Vincent Lighting Systems.
Matt Klasmeier and Chuck McCafferty lead an introduction to Strand consoles.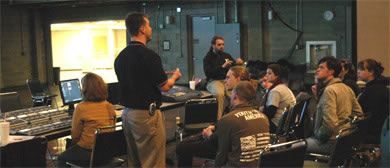 Rob Holland, below, demonstrates the GrandMA console.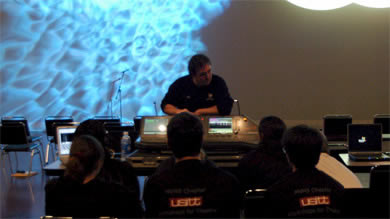 Photos/Dana Taylor
To Top