Going, Going, Gone! Art Auction to Benefit Kook Fund
Every three years at the USITT Conference & Stage Expo, the Edward F. Kook Fund puts on an art auction to raise money for the Institute.
Louisville will be the sixth time this event will be held, and again a great number of scene and costume design renderings have been donated. High on everyone's list of desirable items will be six signed lithographs of Tony Walton's costume design renderings for the main characters in the film version of The Wiz. An unusual departure for this year's auction is a beautiful, complete set of drafting tools in their original velvet-lined, polished hardwood, case. What makes this set even more desirable is that its original owner was one of the well-known pioneers in the field of modern stage lighting and design, Theodore Fuchs.
Here's one for the treasure seekers: when Joel Rubin was working with David Mitchell as he designed Barnum in the winter of 1979, they tried out projection effects at Kliegl. Mr. Rubin had a Linnebach projector set up, and Mr. Mitchell did a quick sketch of a roaring lion on a sheet of plastic color media they used for their test. Mr. Mitchell signed the sketch before he left, and Mr. Rubin had it framed as a wonderful piece of theatre art. Mr. Rubin kindly has donated this piece for the auction.
Charlie Berliner, Bobbi Owen, Tim Saternow, Sandy Bonds, Zee Weisfeld, and a number of other artists have generously contributed artwork.
The last auction took place in Minneapolis when the Flea Market Tables were introduced. Randy Earle has been scouring the country for theatre collectibles to be available for purchase. Last time around, there were old gel books, antique lighting instruments, catalogues, and old stage hardware. Who knows what he'll dredge up for this year's event? But you can bet it will be awe-inspiring. Be sure to stop by early to get in on the best stuff before some other treasure seeker beats you to it.
The auction will take place at Stage Expo and will be open to all conference attendees from 9:30 a.m. March 30, when the show opens, until 2 p.m. Saturday, April 7 when the final silent auction bids will be taken. In the auction area, conference attendees can purchase an auction catalogue and bid number for a $5 donation to the Kook Fund.
To Top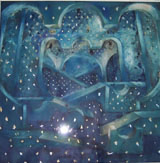 Scene design renderings such as this one by Miodrag Tabački, will be up for auction at the Annual Conference & Stage Expo in Louisville March 30 through April 1. Mr. Tabački, a free-lance designer since 1973, has created work for all the theatres in Serbia/Montenegro, as well as in Belgium, Italy, Slovenia, Slovakia, Macedonia, and Bosnia and Herzegovina.