Architecture Commission
Seeks Ideas
Many may be unfamiliar with the Architecture Commission, the interest area of USITT whose mission is to "enhance the understanding of the role of an architect in the design of theatres and to provide an architectural resource for our members and the professional community."
Besides sponsoring the annual Architecture Awards program, the Commission leads sessions on performing arts center design and sponsors tours of facilities in the host city at the Annual Conference & Stage Expo. At last year's conference, the Commission made it a goal to increase its activity year-round.
To achieve this goal, it is seeking help. Do you know of an interesting project or experience with renovations or new construction that should be shared with the Institute? Is there something you'd always wondered about the process of building a theatre? Do you have an idea for an architecture-related article you always hoped someone would write?
Pass those ideas along to the Commission, attention of Raymond Kent, rkent@wrldesign.com, or Kimberly Corbett, kcorbett@schulershook.com, who are looking for your assistance.
To Top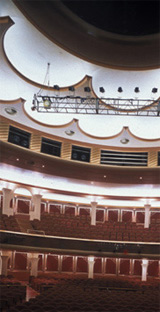 The Architecture Commission honors outstanding new construction or renovation through its Architecture Awards. A detail of the Brighton Dome & Corn Exchange, a 2004 Honor Award winner, is shown above.