Too Unique or Too Specific
for Tech Expo? Think Again!
You solved a difficult production problem in an interesting way, and you are proud of the result, but you think no one else will be interested because the problem was too specific to a weird show, a strange stage configuration, or an oddball director.
You may be surprised. Most theatre technicians appreciate creative problem solving, no matter what the problem may be. We admire the art in our craft.
Technicians are adept at adapting. No good idea is ever wasted in theatre. The only waste is the time it takes to reinvent the wheel over and over again. An idea in isolation is the sound of one hand clapping, or a tree falling in the forest with no one to hear it. Make a little noise about your idea! Enter it in Tech Expo.
In March of next year, the USITT Annual Conference & Stage Expo will host the 10th Biennial Tech Expo in Toronto. In an exclusive area on the Stage Expo floor, Tech Expo will present the best and brightest ideas from technicians from all facets of theatre: costume, lighting, sound, scenery, props, etc.
The actual device or a mock-up will be displayed in a tangible, three-dimensional form that drawings, photographs, and descriptions simply cannot match. The accompanying article will be published in the catalog of the Tech Expo, and a select few will be published in Theatre Design & Technology. Think of the possibilities: one idea, a public exhibition and two articles ­ oh, and a check. From the entries accepted for exhibition, a jury of theatre professionals will select several for special recognition and a modest cash prize.
Your idea is too unique? Think again, and enter the Tech Expo. It's easy. Just look for the entry form in an upcoming issue of Sightlines.
To Top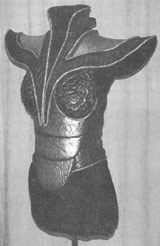 For the 1999 Tech Expo, Christine Duffield submitted "Sci-Fi Armor from Egg Cartons, Art Paper, Fishing Net, and Felt." The completed pieces, above, and the rendering, below, were both part of her entry.