Seeking Projects For
Teaching Costume Design
And Technology
USITT's Costume Design & Technology Commission continues to solicit ideas for Volume 2 of Projects for Teaching Costume Design and Technology. As you plan for the fall semester, take a moment to submit projects you have developed or are using in your courses for consideration in the new edition.
In Volume 1, published in 1998, costume educators from across the country shared their ideas, and the compilation inspired everyone, from the instructor entering the profession to the experienced teacher looking for a fresh approach. The second volume is long overdue.
From the date of the original publication, the editorial board anticipated future publications and pinpointed topics it wanted to see explored or expanded.
Examples include rendering projects (specifically the figure, fabric, and clothing), projects that develop technical skills and techniques, costume management projects, projects that emphasize the collaboration between scenic and lighting design, projects that incorporate written expression of the student's analysis and discovery, portfolio development, and more costume and technology projects.
A link to the Project Submission Sheet is on the Costume Commission Web Page. Go to www.usitt.org and click on Special Interest Groups; choose Costume Design & Technology Commission on the left column; page down to Commission News. The link leads to a pdf file that can be printed and mail to the editors listed below. The form may also be submitted electronically.
The membership of USITT represents diverse teaching challenges. Members teach graduates interested in teaching or professional careers and undergraduates with all levels of interest or talent. These ideas will be explored this summer at the Costume Symposium in Fredericksburg, Virginia, Teaching Costuming: Sharing Strategies-Creating Solutions. Projects discussed at the conference may be developed for the publication.
Copies of Projects for Teaching Costume Design and Technology Vol. 1 are still available through the Institute's Office. Volume 1 could be reprinted if there is enough interest from the membership. Those interested in having Volume 1 reprinted should contact one of the editors of Volume 2: Judy Adamson, CB# 3230, Center for Dramatic Art, University of North Carolina, Chapel Hill, NC 27599-3230: jadamson@e-mail.unc.edu; or Martha Marking, Department of Theatre and Dance, Appalachian State University, 480 Howard Street, Boone, NC 28608 markngma@appstate.edu.
To Top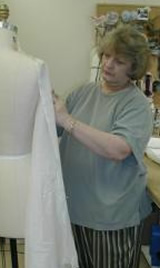 Judy Adamson, above, and Martha Marking, below, are continuing to seek materials to be included in the second volume of Projects for Teaching Costume Design and Technology.