Virtual Callboard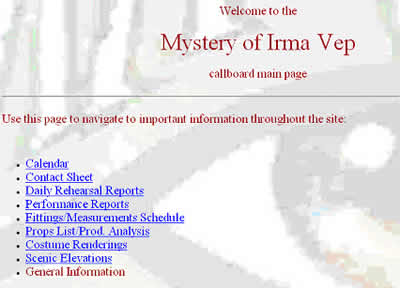 Serendipity is officially defined in my dictionary as "the faculty of finding valuable or agreeable things not sought for" but I like to refer to it as a "happy accident." Such was the case when I found myself facing the last two weeks of the semester and the tech and opening of The Mystery of Irma Vep at the same time. We had a very short rehearsal period, a designer two states away, and I had one final to give and two other projects to grade. Needless to say, free time was at an all time low and I had much information to disseminate. Enter the idea of a virtual callboard.
You have to know from the onset that I am neither computer illiterate nor a computer whiz. Like most people, I know just enough to get myself in trouble. Fortunately, I was able to avoid most of that and stumbled into a very fun and easy way to keep my group informed and up to date.
This is not an endorsement for Microsoft, but like a lot of people in my school, I have the suite installed on my laptop. I realize that for the serious web builder there are far more intuitive programs out there for web development. But for the stage manager who is trying to keep his company organized and for the teacher who is trying to maintain an inspiring and informative classroom, the simplicity of the suite made my life unbelievably flexible.
The production arm of the school has its own server and several of my colleagues are much more savvy with the whole computer process. But with some pestering they gave me administrative control of my own file and I began the process of putting the regular callboard information in the file. I created "hard files" (my word) for contact sheets, calendars, production analysis, props list, rehearsal reports, and performance reports.
These were the regular printable files if we needed hard copies of anything. I also saved them all as web pages and even with a most modest understanding of Microsoft Front Page created a web site that would allow anyone involved in the show to log on and see all of the information available. I also inserted photo galleries of the costume designs and scenic elevations so the lighting designer two states away could flip through them to make color choices.
It became a kind of instant hit for members of the production. With wireless connections in our theatres I was able to save the file minutes after I was finished with rehearsals and shows and upload the file to the web site; instant information available when you need it. Additionally, just before leaving for the night I would synchronize the files with my Palm Pilot before I turned off my computer. Then when the inevitable phone call would come in with questions on the days notes I would just look at the files on my palm.
The digital world is changing the way information is shared. Perhaps stage management can jump on the bandwagon and find new ways to manage their information. The virtual callboard is something that I found extremely useful when I was strapped for time. The proliferation of PDA's means most of us can carry around all the show's critical information in our pockets. I have applied for and received web space on the University servers.
With my students, I am going to continue and expand on the concept as we roll into the new school year. If the process becomes too complicated then it will just add to your workload as a stage manager and the virtual callboard would fail as a valuable tool. But if I can keep it simple, we might just go paperless with the Penn State callboards. So now when students stand around the large black cork boards outside my office they might just be looking at a web address.
Sightlines Editor Barbara E.R. Lucas welcomes submissions from writers, poets, photographers, designers, managers, artists, and others for this feature. Please contact her at USITT, through barbara@office.usitt.org or call 800-938-7488.
To Top