News & Notices
Member Spotlight: Kathy A. Perkins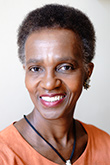 Kathy A. Perkins, lighting designer, theatre historian, Professor of Dramatic Art at University of North Carolina at Chapel Hill, author, editor, African diaspora scholar, and co-director of Telling Our Stories of Home, an arts festival celebrating changing African-Diaspora Communities March 28-April 8 at UNC-Chapel Hill.
USITT: How did you get involved in theatre?
Kathy: I grew up in Mobile, AL, on the Gulf, and I guess I've always been involved in theatre in one way or another, mainly through church or my community. My sister and I played piano and I used to sing, and during the Civil Rights Movement we had community theatre projects, and I did theatre in junior high and high school. So by the time I went to college at Howard University, I thought I wanted to be an actress.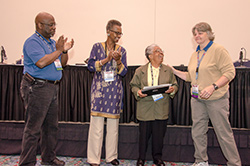 How did you end up in lighting design?
One day I was in the theatre with my best friend and we were sitting backstage. He was saying, "What are you going to do as a black woman in 1973 with a major in acting? Where are you going to go?"
I said, "What do you think? I want to go to New York!" He said, "There is so much competition in acting, but so few black women in lighting or sound. If you go into lighting or sound, you will never have to wait tables in your life. You should at least try it."
There were a lot of opportunities at a local road house, so I did try it and I found I really liked lighting. And I had the opportunity to do lighting for Roberta Flack, Earth, Wind and Fire, Chaka Khan, Patti LaBelle, people like that.
At that time, IATSE was still segregated, and in fact the IA local in D.C. was the last to integrate. The IA president there, Ralph Dines, was a mentor – we called him "Daddy Dines." He taught me so much, and he was the one who told me to go to grad school for lighting design.
You had a pretty famous mentor. How did that happen?
Craig Wolf (USITT 2011 Distinguished Achievement in Education) was my professor in grad school at the University of Michigan. He assisted tremendously with theory, which I lacked at Howard, but I was very strong in practical skills.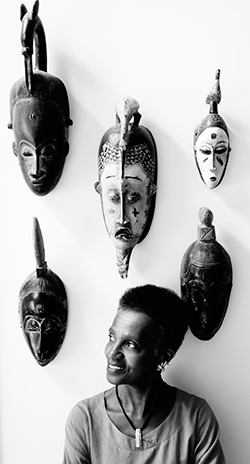 The whole time I was at Howard, I had heard about Shirley Prendergast (USITT 2014 Distinguished Achievement in Lighting Design). Because Howard is an HBCU with a very strong tech department, we heard a lot about black people working in New York. And it's kind of weird how I got to work with Shirley. Michigan would bring in guest designers who were mainly white, and since they would all comment on the quality of my work, I would ask them to hire me as their assistant. And they all said, "You need to meet Shirley." I finally asked one designer, "Why not you?" He said, "Here I am, an older white man. How would it look for you to be following me around all the time as a young black woman?" Because when you assist a designer, you are with them all day long. It wouldn't look appropriate, so he insisted, "You have to meet Shirley." And when I went to New York, I did meet her. She was amazing.
I ended up assisting her on a Broadway show, and she said, 'Any time you need anything, call me.' Well, I didn't call her the first time I decided to take the exam (for USAA Local 829). When I didn't pass, I called her. One problem was, I didn't hang spare lights. Shirley explained that when you hang a Broadway show, you hang twice as many lights in case the director wants to make changes, then you won't have to start from scratch."
Shirley was primarily interested in lighting plays and dance, so if someone called her with a concert, she'd give it to me. She was offered to light renowned singer Lena Horne and she told the producer, 'Call Kathy Perkins.' That's the type of person she is. And she would encourage other women to join the union. There are so few black women in the union, they're probably all there because of Shirley.
Shirley says she doesn't have a design style. Do you?
I don't think I have a style, and that's because I work with so many different kinds of artists, not just in the U.S., but in Africa. When I was teaching in Illinois, I brought in lighting designers from other countries such as Trinidad and Taiwan, and I was influenced by their styles.
I do enjoy using cycs (cycloramas) for color to establish mood. When I travel, I photograph skies, and I use them as examples when I'm communicating with directors about the feel of a piece … I can show what I have in mind, daytime, nighttime, cloudy, sunrise, sunset, etc. I also love texture, which is why I enjoy using a great deal of gobos if appropriate. While I am not a heavy hang designer, I don't consider myself a minimalist either. If I can do a show with 100 instruments rather than 300, I will do it. That's why I like cycs, because I can manipulate the cyc to change the whole look of the stage picture.
What led you to become a theatre historian?
On my first day of grad school in 1976, I was looking for the design orientation and I stopped to ask a white male student for directions. He said, "Actors are over there." I said, "I'm looking for design." "Why?" "I'm a design major."
He said he didn't know black people did anything but perform. He said, "How come I've never read about black people behind the scenes?" I was furious. Later, I went to the library and looked in every theatre book I could find and this person was right! There was nothing about black people backstage. I said, 'I need to do something about this.'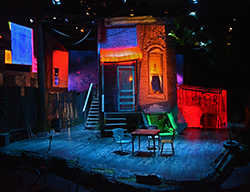 I didn't act on this need until my first teaching position at Smith College in 1979. I was awarded a Ford Foundation Grant in 1981 to officially conduct research in New York City on blacks behind the scenes.
I started with the oldest black technicians, some from the Turn of the Century. One of the oldest was a man who was there when they opened the Apollo Theatre. He was there when they were laying cable down 125th St. And they were so excited – 'Why do you want to talk to us, we're not actors!' No one had ever asked about their careers."
Then in the '80s in New York, I worked with a lot of South African exiles. And when Apartheid ended, a lot of my friends returned to South Africa … And all the plays they were working on were written by men. I thought, 'Women in Africa must have something to say.' So I went to Africa. I started with South Africa and branched out to the whole continent (resulting in two anthologies of plays by African women.)
How did you get involved in USITT?
When I started teaching at the University of Illinois Urbana-Champaign in 1989, everyone was, "You have to attend USITT!" Illinois was the first place where I headed a graduate program, so it was good to see what other people were doing with their programs. USITT was also a great place to network and meet people. I became very active on the Education and Lighting commissions, and served on the board at one time. I am currently organizing a theatre festival of African and African diaspora artists here at UNC, so could not attend the conference in Salt Lake City. But I am definitely going to St. Louis next year!
You have written extensively on the canon of African and African Diaspora theatre. What are your thoughts on the recent debate on diversity in theatre?
It's a national problem. There are many kids of color who don't feel welcomed in many theatre programs, particularly in the technical fields. Too often I will hear departments say, 'We can't find black students.'
While at Illinois, I partnered with HBCUs including Howard University, Florida A&M, and North Carolina A&T, so we were able to bring a range of students into the various technical areas and even acting. It seemed like a no-brainer if one was serious about diversifying a program.
Also, you have to catch these young people in high school. We don't have a lot of black kids in tech, and those that are in high school want to go into video and film because they feel there's not enough money nor opportunities in theatre. I tell them, "If you have lighting experience, you can work anywhere, and not limit yourself only to theatre." I have former students who work on cruise ships, who are engaged in architectural lighting, TV, museum lighting, as well as industrials. If you have a basic theatrical lighting background, you can pretty much go in any direction.
I must say that I am proud of the initiative USITT is taking in encouraging diversity, particularly with the Gateway Program and the Tayneshia Jefferson scholarships. This is indeed progress!
What project are you most excited about currently?
That would be the recent conference/theatre festival, Telling Our Stories of Home: Exploring and Celebrating Changing African and African-Diaspora Communities. This two-week festival of African and African Diaspora women artists focuses on the theme of 'Home' – what is home, where is home, being uprooted from home through domestic violence, war, natural disaster, incarceration, or gentrification. We have a playwright from Haiti, a dancer from Brazil, a playwright from Rwanda to discuss genocide, a poet from South Africa... "And we are using theatre to foster communication."
We see the festival takes place at UNC through April 8. Thanks for sharing!