News & Notices
Three New Fellows Inducted in Salt Lake City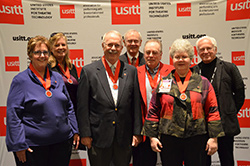 Scenic artist Rachel Keebler, arts manager David W. Will, and stage manager Stephanie Young were inducted as USITT's newest Fellows of the Institute on Wednesday, March 16 at USITT 2016 in Salt Lake City.
They became the first members to be named Fellows since 2012.
The trio was welcomed to the ranks of Fellows by three of their peers at the opening of USITT 2016.
Keebler, co-founder, owner, and director of Cobalt Studios scene-painting shop and school in White Lake, NY, a USITT Sustaining Member since 1996, was introduced by USITT Fellow and Board Member Bob Scales.
Keebler has exhibited and taught scene-painting workshops at USITT's Conference & Stage Expo for decades. In 2013, she received the USITT Distinguished Achievement in Education Award for Cobalt's role in training expert scene painters.
"I'm honored to be asked to be part of this amazing Fellows club," Keebler said. "But we've all come to USITT to be counted as part of the production club … Keep loving it, keep doing it, keep learning about it and then pay it forward, because it will pay you back with a wonderful life."
Will, manager of facility resources for Penn State University's College of Arts and Architecture, has been an active member of USITT since 1988. He was introduced by USITT Fellow Leon Brauner. Will has served as USITT Management Commissioner, on the Conference Steering Committee, and most recently as Vice-President for Conferences from 2009 through 2014. Brauner noted that Will also cooks for his local community kitchen and volunteers for the Special Olympics.
He called Will "the magical manager" whose leadership helped enable USITT's growth. Will said, "There was nothing magical about what I did. It was all about the people around me, and all of you are sitting right out there."
Young retired last year as head of the Stage Management Program at the California Institute of the Arts after 30 years in that role, 17 while also serving as assistant dean for CalArts' School of Theater. She has been active in USITT since 1980, serving either on the Board of Directors or as an Officer for 20 years, 1992 to 2012. She is now on the Grants & Fellowships Committee.
She was introduced by her friend, USITT Fellow Elynmarie Kazle, who she helped to develop USITT's Stage Management Mentor Project in 1991. Young thanked Fellow Joe Tawil, the late Will Bellman, and the late Sarah Nash Gates for getting her involved in the governance of USITT.
Randy Earle, chair of USITT's Fellows, presented the three honorees with the signature red ribbons Fellows wear to denote their role as experts and mentors in their fields. Among their duties at the Conference was an open mentoring session for students and young professionals, and 'Overheard at the Nexus' interviews with 2016 Wally Russell Lifetime Achievement Winner (and USITT Fellow) Gordon Pearlman, and former OISTAT President (and USITT Fellow) Richard Durst.