Commissions
2016 Costume Symposium: Tailoring with Graham Cottenden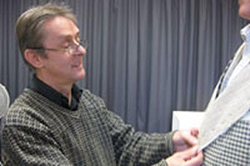 This summer's Costume Symposium tackles the Tricky Bits of Tailoring with renowned costumer and tailor Graham Cottenden of the Wimbeldon School of Art.
It will be held July 27-30 at the Penn State School of Theatre, hosted by Penn State's Laura Robinson, senior lecturer and tailor at the college. Deadline to register is May 1. Register here.
The symposium is open to 40 participants and will include detailed instruction and hands-on work on welt and jetted pockets, canvases and pad stitching lapels, sleeve and collar skills, and more, with background on 19th century men's tailoring and period costume.
Registration by May 1 is $450 for USITT members, $500 for non-members. Rates go up $25 after May 1. For more information, please visit www.usitt.org/costume16.
For questions about the symposium, contact Laura Robinson at lkr13@psy.edu. For questions on registration, contact Christine Troscher at christine@usitt.org.