News & Notices
Help USITT Celebrate Arbor Day April 29 as #RigSafe Day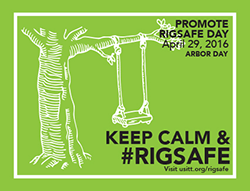 USITT and friends will be tweeting, posting, and sharing #RigSafe messages, photos, and reminders all day on April 29 – Arbor Day! Please help us celebrate Arbor Day the theatre tech way, by promoting stage rigging safety practices.
USITT wants Arbor Day to become a day to remember to schedule stage rigging inspections, just like Daylight Saving Time reminds people to check their smoke alarms. It's also a good day to donate to rigging safety programs.
The Institute will be promoting two of its programs – the Rigging Safety Initiative providing free rigging inspections and safety training for high school stages, and the Jay O. Glerum Rigging Master Classes launching in Denver June 13-14.
The RSI is the only program in the nation of its kind, and thanks to generous sponsors and donors, USITT has helped over 100 schools around the country with free rigging inspections and safety training since 2011.
The Glerum Masterclasses honor the late Jay O. Glerum, master rigger, educator, and rigging safety advocate. The Glerum classes for entry level and advanced riggers will be held in a different location each year. The first classes will be held June 13-14 at the Denver Center Theatre and Metropolitan State University in Denver.
For more information on either of these programs, including applications, visit www.usitt.org/rigsafe.
And please plan to help spread the word on social media using the hashtag #RigSafe on April 29!