Spotlight on Giving
All in the Family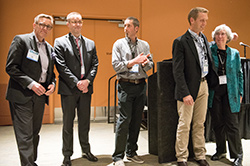 The family of Jay O. Glerum, master rigging and educator, made a special gift to help high school teachers attend the first Jay O. Glerum Rigging Masterclasses June 13-14 in Denver. They donated $5,000 to cover travel expenses for five teachers to attend the entry level rigging classes.
Then at USITT 2016, USITT's Fellows voted to match that contribution with another $5,000 from the Fellows Fund, allowing for 10 secondary school teachers to get travel support for the classes.
USITT thanks the Glerum family and the Fellows for their contributions to our missions of education and safety.
Donors from February 15 to March 14, 2016:
Kook Fund
George Augspurger
Sandy Bonds
Dennis Dorn
Linda Janosko
Andi Lyons
Sylvia Pannell
Loren Schreiber
Arnold Wengrow In Honor of David Rodger & Deborah Hazlett
Charles Williams
New Century Fund
Robert Braddy
Andi Lyons
Charles Williams
New Century Fund - Diversity
Kasey Allee-Foreman
Elle Ghini
Rafael Jaen
Michael Katz
Andi Lyons
Michael Mehler
Linda Pisano In Memory of Tayneshia Jefferson
Samuel H. Scripps International Fund
Sandy Bonds
Richard Durst
Kevin Rigdon
Loren Schreiber
Kate Wulle
USITT Fund
Rola Alsenan
Ernest Anderson
Ebrahim Awachi
Rafael Jaen
Andi Lyons
Mark Shanda
General Operations
William Browning
Daniel Culhane
Dennis Dorn
Emily Gill
David Grindle
Mickey Henry
Michael Katz
Kenmark, Inc
Carl Lefko
Andi Lyons
Martha Marking
Leslie Marqua
Sylvia Pannell
Carolyn Satter
Loren Schreiber
MJ Sedlock
Sherry Wagner-Henry
Kimb Williamson
Fellows Fund
Sandy Bonds
Elynmarie Kazle