News & Notices
Guy Bergquist Receives 2016 Wally Russell Mentor Award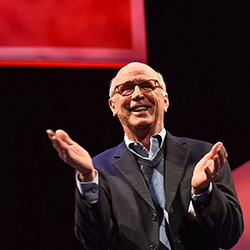 Arena Stage's Guy Bergquist received USITT's 2016 Wally Russell Professional Mentor Award Friday March 18 at USITT 2016 in Salt Lake City.
Bergquist retired from the Washington, D.C. theatre company in 2011 after 25 years. He is the second person to receive the award created in memory of Russell, a beloved figure in lighting and theatre technology who helped many people get their start in the industry.
Wally Russell Foundation Board Members Paul Vincent and Tom Folsom presented Bergquist with the award, which he accepted with an emotional speech that touched on his love for collaboration that honors the work onstage.
"Ever since I was notified of this award, I wondered, 'Why me?'" he said. "And after I think 374 versions of this speech, it came to me: Respect. Respect for the art of storytelling, for the artists and craftspeople, respect for our institutions and audiences, and most important, respect for our process, for our collaboration, and for each other."
In his 25 years at Arena Stage, Bergquist served as Production Coordinator, Associate Producer, Producer, and Interim Managing Director – the latter while also leading the theater's $137 million construction and renovation project for the Mead Center for American Theater, which opened in 2010.
He worked with all three of Arena's Artistic Directors - Molly Smith, Douglas Wager, and Founding Artistic Director Zelda Fichandler.
Bergquist began his career in 1970 at the O'Neill Theatre Center, where for over ten years he worked as both Production Manager for the National Playwrights Conference and Stage Manager for the National Theatre of the Deaf.
He also served in the U.S. Army, Special Services, and worked as Production Stage Manager for the Hartford Ballet, co-owner of Melodrama Theater in Austin, Texas, and Producing Director of the Theatre and Interpretation Center at Northwestern University.
But it was at Arena that he had the most impact as a mentor, teaching, encouraging, and challenging "dozens, if not hundreds, of young theatre professionals," three former mentees wrote in their nomination.
"His mentees are now scattered throughout the country, further spreading the 'gospel of Guy' to yet another generation," read a letter signed by Jill Anderson, General Manager of the Eugene O'Neill Theater Center in Waterford, CT; Jane Casamajor, Production Manager at the Fort Mason Center in San Francisco, and Angie Moy, Production Director at Kollaboration D.C.
Bergquist received many nominations from current and former Arena staff who praised his nurturing leadership style and his availability to everyone "from the Artistic Director to the janitors" if they needed his ear.
Bergquist was moved to tears when he thanked "my colleagues who conspired to nominate me," many of whom were in the audience. Then he joked, "A big part of mentoring is teaching people to write good nominating letters."
He described his approach to his work as simply pursuing his passion, doing what he loved every day, and leading by example. "I love going to work," he said. "I go early, I stay late. I like to walk and talk, to visit every office, every shop, every rehearsal, every person, every single day. I especially like being backstage with actors and crew prior to curtain."
"I want to be there when people have problems." he added. "In this business, there is nothing more important or satisfying than problem-solving. The three words I hate more than any others are, 'Not my job.'"
Bergquist was then invited to join the panel that followed, USITT's 2016 Distinguished Achievers in Conversation. The discussion featured Scene Designer Anna Louizos, Sound Designer John Leonard, theatre safety pioneer Monona Rossol, Wally Russell 2016 Lifetime Achievement Award winner Gordon Pearlman, and Lighting Designer Jennifer Tipton, who accepted the USITT 2016 Distinguished Achievement Award for her partner, the late Sonny Sonnenfeld, who passed away on Feb. 10.
Watch the Wally Foundation video of his acceptance speech.