Conference & Stage Expo
Wenger Looks Forward to 32nd Conference Year
Enhanced programming continues to broaden the appeal of the USITT Annual Conference & Stage Expo for exhibitors and attendees alike. The sessions are attracting more people, including key players from all aspects of the theatrical community. When people want to see the industry's top decision-makers, the USITT conference is a can't-miss opportunity.

The Wenger team appreciates visiting with consulting firms from the United States and around the globe. It's a valuable chance to share products and capabilities for new construction, renovation, and special projects, and to better understand customers' needs.
The Milwaukee conference will be Wenger's 32nd year at USITT. The strong customer response and valuable industry exposure the company receives makes Wenger look forward to USITT every year.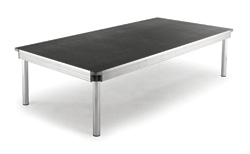 At the 2013 Stage Expo, Wenger will showcase its newest staging solution – StageTek. It represents a dramatic leap forward in technology and performance when compared with other stages on the market. Intended for performance stages or seated risers, StageTek features the company's strongest stage decks. These decks are 15 percent lighter and incorporate grips that improve handling. Wenger representatives look forward to the opportunity to show clients its setup which is easy, fast and intuitive. The company is sure visitors to their booth will be impressed when they learn it offers approximately 20 percent faster setup than Z-frame systems.
Meeting face-to-face with end-users at USITT will allow Wenger to show off StageTek's plug-and-play legs which provide quick height adjustments, offering maximum flexibility.
Since much of what Wenger manufactures is project-specific, the company doesn't attend USITT expecting to sell a lot of products. Instead, it wants to educate the industry about Wenger's extensive capabilities and catalog. Many attendees are looking for the resources, expertise, and innovation Wenger offers.