Conference & Stage Expo
Sign Painting: a timeless art and a professional development opportunity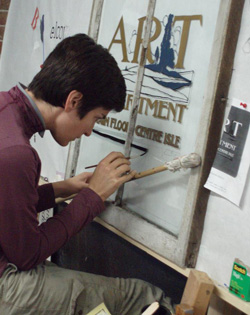 Not too many years ago, fledgling painters assailed lettering and signage with hours of layout utilizing drafting tools. Then along came large format printers, which gave an easy pounce in any font imaginable or make the sign. A time-saving device so ubiquitous, the printers have virtually made sign-painting skills extinct. Except for when there is no large format printer, it's out of ink, or it would just be easy to whip out a quick little sign that has to be painted on corrugated steel. Do printers work on corrugated steel?
For those who have leaned heavily on technology to solve problems and would either like to brush up lettering skills or learn new ones, the Scene Design & Technology Commission, in partnership with Cobalt Studios and Rosco, will offer a one-day Professional Development Workshop Timeless Signs at the Milwaukee 2013 Conference & Stage Expo.
The PDW will be held at the Skylight Opera House with Rachel Keebler, owner and master painter at Cobalt Studios. Over the years, she has developed and perfected her own method painting and teaching others how to paint signage easily, painlessly, and without the support of a large format printer.
A simple, freehand approach uses a variety of techniques with quality results on various substrates like corrugated steel, plywood, brick, and muslin. The class will mix and match projects allowing participants the opportunity to witness many different styles and approaches. Students will have the opportunity to paint more than one sample.