News From
Sustaining Members
Clearwing Productions: Joins Ranks of Sustaining, Booth to be Front and Center
Clearwing Productions has increased its level of support to that of a Sustaining member of the organization. Clearwing is an expert source for audio, video, and lighting technology. It provides the finest designers and technicians, state-of-the-art equipment, and impeccable assistance with productions, sales, service, and systems integration.
The Phoenix-based company will be front and center when Stage Expo 2013 opens in Milwaukee because Clearwing has also selected a booth right inside the doors of the exhibition hall.
To learn more, visit www.clearwing.com.
George Washington University: Upgrades with Stage Expo Contract
The George Washington University upgraded to Sustaining with its Stage Expo contract. Visit the Department of Theatre and Dance website for more information.
iWeiss: iWeiss Moves
"From Broadway to your way," for over three decades iWeiss has provided quality draperies and rigging solutions to the entertainment industry. New space will help the company offer clients in theatre, education, construction, and special events more efficient service for a broad range of projects and challenges.
With its recent move to a modern, energy efficient facility in New Jersey, the company lowered its overhead while doubling its space for greater production efficiency. It now has a large lay-out floor, hanging space, plenty of room for inventory, and steel shop equipped to handle the fabrication of ViaLift and ViaWinch alongside other rigging projects.
Whether looking for an Austrian curtain or border, a pipe grid or pipe clamp, motorized rigging or sand bag, customers find it at iWeiss with its motto -- it's really all about the customer.
L-ACOUSTICS: Products on Tour (and on Tour...)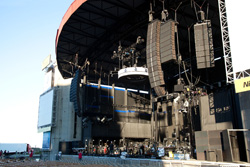 On the cusp of dropping off of the radar for a full year's hiatus, Peter Gabriel treated fans in select North American cities to a brief tour celebrating the 25th anniversary of his renowned multiplatinum album, So. Reunited with the band from the original tour--bassist Tony Levin, guitarist David Rhodes, drummer Manu Kache, and keyboardist David Sancious--Gabriel was joined by a newer performer -- Firehouse Productions' L-ACOUSTICS K1 system.
Based in Red Hook, New York, information on Firehouse Productions can be found at www.firehouseproductions.com.
Following an enthusiastic response to its new ARCS WIDE and ARCS FOCUS systems, which debuted at the Prolight + Sound trade show in March in Frankfurt, L-ACOUSTICS launched a busy global demo schedule in mid-September.
In addition to highlighting Constant Curvature products like the award-winning ARCS WIDE and ARCS FOCUS, the demos will cover L-ACOUSTICS' Coaxial (P and XT Series) and Variable Curvature (KARA and KIVA) systems and technologies.
Vectorworks: Announces Product Release, Collaborative Partnership
Nemetschek Vectorworks, Inc. released the 2013 version of its award-winning Vectorworks line of design software, including: Vectorworks Designer, Architect, Landmark, Spotlight, Fundamentals, and Renderworks.
The Vectorworks 2013 product line contains more than 80 improvements including new commands and tools. Performance in many areas of the program has also been improved, and examples of this include wall network manipulation, hidden line rendering, changes to Vectorworks Spotlight lighting devices, and 2D navigation of Vectorworks scenes.
Check with local distributor for availability. Visit www.vectorworks.net/2013 to learn more about the product line.
Vectorworks also formed a partnership with Integrated Environmental Solutions (IES), a provider of integrated performance analysis software and consulting services for sustainable building design and operation to collaborate on Vectorworks Architect and IES Virtual Environment software (IESVE).
Irwin Seating Company: Offers New Seating Options
Irwin Seating Company has announced an innovative line of fixed seating for its clients. In partnership with Blue Cube (GB) Ltd, Irwin Seating introduced Solara and Integra beam-mount chairs this past summer at its national sales meeting in Grand Rapids, Michigan.
Installations for Solara and Integra include the home for the 2010 World Cup, Soccercity Football Stadium in Johannesburg, South Africa, and the famous Wembley Stadium in London. In addition, Blue Cube has installed Solara and Integra chairs in many of the venues used for this year's Olympic Games, including 80,000 chairs at the Olympic Stadium, 6,000 chairs at the Velodrome, and 28,000 chairs at Lord's Cricket Ground, MCC.
In addition to Solara and Integra, Irwin Seating Company has introduced the Solo Worksurface line of lecture room furniture (also in partnership with Blue Cube) and refined models for its popular Citation and Millennium chairs. For more information, visit www.irwinseating.com.
Musson Theatrical: Launches New Website
Musson Theatrical has launched a new, more user-friendly, website. Visit www.musson.com for information about sales, rentals, production services, system design, and integration, as well as for online shopping.
Stagecraft Institute of Las Vegas: Schedules 2013 Season
Maintaining the Stagecraft Institute of Las Vegas (SILV) core value of in-process curriculum, 2013 will include the institute's full, high tech, eight-week program and three double week offerings: Foam Art - Block to Finish, Moulage Make-up and Prosthetics, and SFX - Pyro Plus. In all of these classes, the hands-on approach will incorporate cutting edge materials, processes, and outside industry innovations.
For course descriptions and applications, visit stagecraftinstitute.com.
Sapsis Rigging Inc.: Sapsis Rigging improves school safety with fire curtain upgrades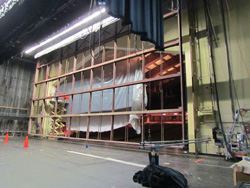 When the Milton Hershey School in Hershey, Pennsylvania, and the College of William and Mary in Williamsburg, Virginia, made renovations involving their theatre fire curtains this summer, they called on the expertise of Sapsis Rigging, Inc.
The fire curtain in Founders Hall at the Hershey School is a framed unit weighing in at just over 21,000 pounds. It was more than 50 years old and needed to be brought up to current building codes and ANSI standards. The project included replacing the asbestos cover on both sides of the frame and installing a new winch and control system.
At Phi Beta Kappa Hall at the College of William and Mary, an emergency masonry repair provided an opportunity to replace the motorized winch and control system for the existing fire curtain.
More information on Sapsis Rigging, Inc, is available at www.sapsis-rigging.com.
IATSE: Ratifies Three-Year Contract
The International Alliance of Theatrical Stage Employees, Moving Picture Technicians, Artists and Allied Crafts (IATSE) and Alliance of Motion Picture and Television Producers (AMPTP) recently ratified a new Area Standards Agreement. The agreement covers 8,000 IATSE members working in feature film and television production in most areas of the United States outside of the Los Angeles and New York regions. The IATSE and AMPTP reached a tentative agreement on a new contract on August 24, and the agreement was ratified by the IATSE General Executive Board.
The new contract, which will run through July 31, 2015, includes annual wage increases and an increase in health plan contributions in each year of the agreement.