News & Notices
2013 Elections Start October 30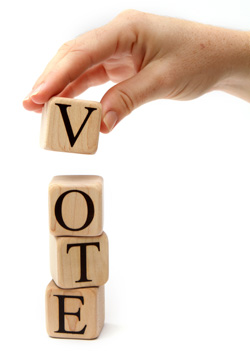 Electronic voting for 2013 Board of Directors positions will begin October 30. Current members will be notified by e-mail when voting opens and will be able to cast ballots until December 10. The ballot will include a brief biography and a position statement for each candidate. Click here to read about current candidates and their position statements.
Members who do not have access to electronic communication will receive paper ballots.
The USITT Nominations Committee presents the following slate for the 2013 election cycle.
Six directors are to be elected from among Paul Brunner, Jimmie Byrd, Brent "Mickey" Henry, Tayneshia Jefferson, Michael Katz, Elynmarie Kazle, Raymond Kent, William Kenyon, Paul Vincent, Robert Scales, Kim Scott, and Kimb Williamson.
Those elected Directors will serve three-year terms beginning July 1, 2013.
Because of the effort to sync up board of director terms and officer terms, according to the Bylaws changes of 2010, there are no officer positions open for election this cycle.
Thanks to the 2012 Nominations Committee for recruiting candidates and stewarding applications through the nominations process. This is a time-intensive procedure that involves a great deal of thoughtful observation and ingenuity.
The committee strives to ensure that the future leadership of the Institute is well-populated with candidates from all categories of membership, all areas of expertise, and all areas of geographic location, as well as experience with the organization, and other important approaches of diverse thinking and representation.
An equal measure of thanks goes out to the candidates themselves, who have been made aware of the important work required of them if elected to these positions.