News & Notices
First National Entertainment Innovation Conference a Flying Success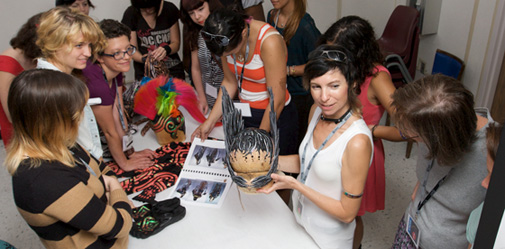 From computer-controlled high-flying stunts with ZFX Flying Effects to the inside scoop on Broadway show production with Ken Davenport of Davenport Theatrical Enterprises, the first North American Entertainment Innovation Conference at the University of North Carolina School of the Arts (UNCSA) drew nearly 400 professionals and students to Winston-Salem, North Carolina September 6 to 8. They experienced the latest innovations in entertainment with hands-on sessions and insider workshops.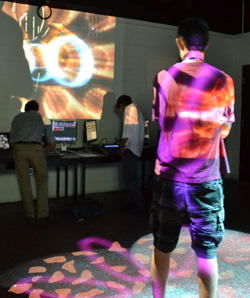 "The Entertainment Innovation Conference was one of the most impressive industry conferences I've attended," said Trevor O'Donnell, arts marketing guru and author of Marketing the Arts to Death: How Lazy Language is Killing Culture. "The emphasis on innovation was inspiring; and the close, personal interaction between young artists, technicians and managers and some of the top professionals in the industry was truly impressive. I was honored to have been invited, and I can't wait to come back."
Attendees came from as far away as Oregon, New Mexico, Pennsylvania, and Florida to work side-by-side with award-winning designers and leaders in the fields of global entertainment, Broadway, Walt Disney, and theatrical design. The conference was sponsored by the USITT and featured workshops with Cirque du Soleil, its technical partners, and some of the most respected professionals in the entertainment industry.
"Cirque du Soleil is proud to be a partner in the Entertainment Innovation Conference," said Kim Scott, director of Show Support, Resident Shows Division. "With the support of our technical partners, such as Meyer Sound, Stage Technologies and M.A.C., we are able to enhance the programming offered at this conference."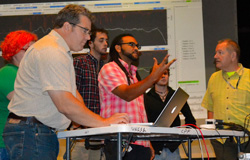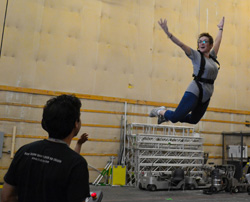 During more than 60 workshops, presentations and interactive sessions, attendees received hands-on training in production, lighting, sound, automation, projections, wig and make-up, and costuming. Sessions included presentations by  Cirque du Soleil staff and technical partners; innovative processes showcased by members of Tectonic Theatre Project; hands-on activities with Meyer Sound and Tony Meola, award-winning Broadway sound designer; brainstorming with Mr. O'Donnell; behind-the-scenes insights from Ken Davenport, famed producer (Godspell, Chinglish, Oleanna); design phase review for themed entertainment by Michael J. Kelley, senior producer and art director at Walt Disney Imagineering; a view of the world of the evolving business of stage technologies and the world of commercial shop operations on Broadway by PRG; a demonstration by ZFX Flying Effects of manual and automated technologies for performer flying; a discussion of entertainment automation on cruise ships by Stage Technologies; a hands-on demonstration of new technologies for automated lighting by Vari*Lite; make-up inspiration and demonstrations by Victor Cembellin, senior makeup artist with M.A.C Cosmetics (make-up supplier to Cirque du Soleil Touring Shows); and a series of workshops by Rosco to demonstrate innovations in paint and coating technologies for costuming.
"This conference was a true demonstration of the power of arts and innovation. It was a world-class experience where innovative ideas were shared in all areas of entertainment, from the management to the performance," said Joe Tilford, dean of the UNCSA School of Design and Production and one of the co-founders of the Conference. "We've set the foundation for this conference to become the future go-to event for hands-on training for anyone working in the entertainment industries."
Visit eic.uncsa.edu for the latest news, photos and updates about the next Entertainment Innovation Conference.