News From
Around the Institute
Congrats to Bill Byrnes
Former USITT President Bill Byrnes, associate provost and adjunct professor of arts administration at Southern Utah University, contributed a chapter to a new book entitled Arts Leadership International Case Studies, edited by Professor Jo Caust. Professor Caust teaches at the University of Melbourne, Australia, and is a consultant in arts management. The book will be available in November through Tilde University Press, in Australia.
Bill's chapter, "The Utah Shakespeare Festival: An evolving arts leadership partnership," covers the impact of the recent hiring of co-artistic directors Brian Vaughn and David Ivers and the evolution of the leadership and management structure of the Festival, which celebrated its 50th anniversary in 2011. Bill noted, "I was really pleased to be asked to contributed to this book and to have the opportunity to share with an international audience some of the changes underway at the Festival that are building on the leadership legacy of founder Fred C. Adams." Byrnes served on the Festival's Board of Governors when he was Dean of the College of Performing and Visual Arts at SUU from 2004 to 2009.
Mr. Byrnes's current projects include working on the fifth edition of his book Management and the Arts, which is used as a text in arts management courses around the world.
Save on Holiday Shipping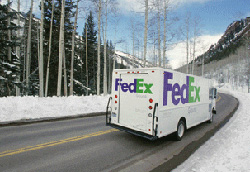 Worried about spending a fortune getting packages there on time over the busy holiday period? Join the USITT Freight Savings Plan and take advantage of the savings. USITT members  can save up to 27 percent on select FedEx Express shipping (includes a 5 percent electronic shipping discount) and up to 15 percent on select FedEx Ground shipping. For more information about the USITT Freight Savings Plan, call Siriani at 1-800-554-0005.
Use the 2012 FedEx holiday shipping website to help plan early. It has the latest updates to the FedEx holiday schedule, holiday shipping news (including exceptions to the FedEx money-back guarantee), and last days to ship for timely holiday delivery.
SUNY - Purchase Grads Rake in Awards
One market niche where jobs are plentiful for qualified recent college graduates lies behind the scenes of such attention-getting events as the Super Bowl half-time show, the stage of Broadway's 2012 Tony Award winning Peter and the Star Catcher, as backdrop to the influential Clinton Global Initiative Conference, or on the set design for TV's The Daily Show.
Eighty-six percent of theatre designer and technology specialist graduates from SUNY-Purchase's BFA program find rewarding work. Dozens of these graduates go on to be nominated for, and often win Tonys, Emmys, Drama Desk, Oscars, and other prestigious awards. This year, Jeff Croiter, a 1993 graduate, won the Tony for Best Lighting Design of a Play, Peter and the Starcatcher (two other Purchase grads were also nominated); and David Grill, a 1986 graduate and now assistant professor and co-coordinator at Purchase, was nominated for an Emmy for lighting the Super Bowl XLVI Halftime Show, which featured Madonna.
Part of the Purchase College School of the Arts' Conservatory of Theatre Arts, the program boasts graduates who have amassed seven Tony Awards and 17 nominations (mostly for lighting design); one Daytime Emmy and 11 nominations (mostly for art direction/set decoration); one Emmy Award and four nominations (mostly for outstanding art direction); four Drama Desk Awards and 19 nominations; and many other national design awards.
For more information about the College, visit www.purchase.edu.
Riders Announce 10th Ride Around Great Lakes
The 10th annual Long Reach Long Riders charity motorcycle ride, dubbed "Ten Great Years and Five Great Lakes" by organizers, is scheduled to begin on June 28. During the eight-day trip, the riders will have an opportunity to visit, and stick their toes into, all five of the Great Lakes as well as ride some of the best bike roads in the area.
In 2004, the Long Reach Long Riders began riding for Broadway Cares/Equity Fights AIDS and The ESTA Foundations' Behind the Scenes program. The group of entertainment industry professionals has raised more than $350,000.
Funding Aids Technician Exchange
Oregon Shakespeare Festival, Ashland, Oregon is one of five organizations to receive funding through the MetLife Foundation and Theatre Communication Group's A-ha! Program: Think It, Do It, which supports the creative thinking and action of TCG Member Theatres. The goal is to affect the larger theatre community. Five theatres were awarded grants totaling $225,000 to either research and develop new ideas or experiment and implement innovative concepts.
The Oregon Shakespeare Festival will develop an artisan exchange of production skills and resources with three to five other theatres. Three to five OSF craftspeople will work eight to 12 weeks at those theatres and will, in turn host, three to five artisans to assume parallel jobs at OSF.
For more information about the program and previous recipients, visit: www.tcg.org/grants/aha/aha_recipients.cfm.
Huntington Releases Update of Industry Standard Text
Author, educator, and industry veteran John Huntington has released Show Networks and Control Systems, the completely updated and revised edition of his industry standard reference text previously titled Control Systems for Live Entertainment.
The book includes an in-depth examination of the control and networking technology used in lighting, lasers, sound, stage machinery, animatronics, special effects, and pyrotechnics used in concerts, theme parks, theatre, themed retail, cruise ships, museums, interactive performing arts, and special events.
Mr. Huntington is now posting supplemental video lectures for each chapter on his website. The book retails for $50 and is available through the website at www.controlgeek.net.
Prism Projection Debuts New LED Lighting Products at PLASA and IBC
Prism Projection is expanding its RevEAL line of LED products with the debut of three new luminaires—Profile Jr., Studio.3 Fresnel, and Studio.UV Fresnel. With its largest product launch to date, Prism debuted the fixtures in Europe at both the PLASA 2012 show in London and IBC 2012 in Amsterdam.
Prism Projection has won numerous awards over the past few years for its line of products that offer all the energy saving and environmental benefits of LED lighting without compromise compared to conventional sources.
For more information about Prism Projection, Inc. and its RevEAL series products, go to www.prismprojection.com.