News From
Contributing Members
Meyer Sound Laboratories, Inc.: Meyer Receives Gottelier Award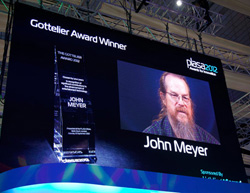 Meyer Sound co-founder and CEO John Meyer received the 2012 Gottelier Award at the PLASA Show Awards Ceremony in London on September 10.  Industry professionals vote on the award which recognizes exceptional individuals and innovators who enable entertainment technology practitioners to push the boundaries of event production, presentation, and installation.
The Gottelier Award is named in honor of Tony Gottelier, a well-respected industry innovator and writer.
John Meyer's career in professional audio spans over 40 years, but the majority of his technological achievements and advances have taken place since founding Meyer Sound in 1979 with his wife, Helen Meyer. In receiving the award, Mr. Meyer acknowledged the importance of collaboration and credited his team for their contributions. He launched his career in professional audio in the 1960s by developing custom loudspeaker systems used by the rock luminaries of the San Francisco Bay Area such as the Steve Miller Band, Creedence Clearwater Revival, and the Grateful Dead. After embarking on extensive research into audio transducer linearity at the Institute for Advanced Musical Studies in Montreux, Switzerland, he and Mrs. Meyer returned to the Bay Area in 1979 to establish Meyer Sound. He was made a Fellow of the Audio Engineering Society in 1985, and was awarded the AES Silver Medal in 2007. He and Helen received the Distinguished Achievement Award in Sound from USITT in 2008 .
Creative Stage Lighting: Offering Free Kinesys LibraCELL Units
Creative Stage Lighting will provide Kinesys LibraCELL units at no extra charge for all jobs taking place outdoors on temporary roof systems.
LibraCELL load measuring units, when used in a Kinesys Libra System, provide real-time load measuring results for production rigs. Built into the load cell is a highly visible LED display allowing users to view the live load being placed on the shackle as well as input a tare value and switch between kg and lbs via an easy to use menu system.
Creative Stage Lighting will also provide LibraCELL units for touring productions during rehearsal times at no additional charge. For more information please call (518) 251-3302 x223.
ETC: Announce LDI Student Sponsorship Recipients
Six talented students were able to go backstage, experience the latest technology, and meet with other professionals as part of ETC's LDI Student Sponsorship program.  The students, taking part in the program's lucky 13th year at 2012 LDI October 19 to 21 in Las Vegas, Nevada, were also paired with industry luminaries who mentor the students as they move into the working world, offering advice and encourage.
Currently a third-year graduate student at the University of Tennessee-Knoxville, Timothy Hart earned a bachelor of fine arts in 2009 from Missouri State University in theatre design and technology with a minor in interior design. This summer, Mr. Hart was a lighting designer at Stagedoor Manor in Sheldrake, New York. He also garnered top awards at the Southeastern Theatre Conference in the graduate lighting design category.
This year's international LDI student sponsorship recipient is David Johnson from Lanchester County, Durham, United Kingdom. From 2008 to 2010, he studied chemistry at the University of Birmingham in Edgbaston, England, and is currently pursuing a bachelor of science in lighting design and live event technology from the University of Glamorgan in Wales.
Jill Klecha is a senior undergraduate student at The University of the Arts in Philadelphia, working toward a bachelor of fine arts in theater design and technology with a focus in lighting design. She is a production intern at the Wilma Theater in Philadelphia and a work-study electrician at The University of the Arts.
In his final year at the University of Michigan in Ann Arbor, Chazz Malott is pursuing a bachelor of science degree in engineering in computer science. For three years, he has worked as an electrician both at his university and at Michigan's Hartland Performing Arts Center.
Daphne Mir is studying at the California Institute of the Arts and anticipates a bachelor of fine arts degree in lighting design at the end of the school year. Her lighting design for Rosencrantz and Guildenstern are Dead at California's Hunger Artists Theater was nominated for a Broadway World Award in 2011.
Greg Starbird is a second-year MFA lighting design student at the University of Houston, where he is a TA for lighting and sound technology and oversees the undergraduate lighting crew. He earned a bachelor of arts in philosophy and drama from Trinity University in San Antonio, Texas, in 2011.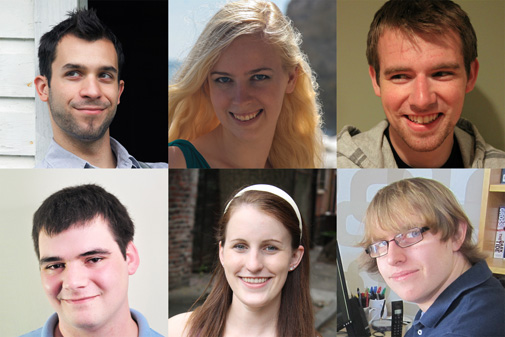 ETC: Introduces 120V Dimmer
The more than three million Source Four fixtures shining brightly throughout the world just got a new companion. ETC is expanding its dimming and power control line with the introduction of the Source Four Dimmer, which can be attached to any conventional Source Four to provide per-fixture distributed dimming in 120V markets.
The 120V Source Four Dimmer officially debuted at the LDI tradeshow in Las Vegas, Nevada. More information about the Source Four Dimmer and ES750 Dimmer can be found at www.etcconnect.com/product.overview.aspx?Id=22115.
Rosco: Form Joint Venture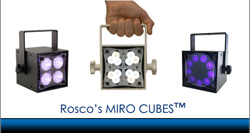 Rosco recently formed a joint venture partnership with The Black Tank, an advanced engineering group located north of Boston, Massachusetts, to design, develop and distribute LED lighting fixtures to the entertainment and architecture markets.
The immediate result of this partnership was seen at the opening of the IBC Exhibition in Amsterdam and at the PLASA Show in London where Rosco is debuting Miro Cube, its new line of wash lights based on Black Tank's successful Brick Blaster fixtures.
For more information on Rosco Miro Cube luminaires, go to www.rosco.com.
Rose Brand: Seeks Scholarship Applicants, Offers CAD and PDF Drawing Formats
The 2013 Rose Brand Scholarship Application is now available on the company's Facebook page. The $5,000 scholarship is awarded to a student in scenic design. A Rose Brand credit for $2,500 will be given to the student's school to help enhance the theater program.
Graduate and undergraduate students can apply by November 28. The application includes answering a number of questions, providing a faculty recommendation, and submitting photographs and descriptions of projects.
Visit Rose Brand's Facebook page at bit.ly/rosebrand-scholarship for more.
Rose Brand now has CAD and PDF formatted drawings of its Stretch Shapes products so that designers can easily incorporate the products into their plans. The drawings are easily accessible at bit.ly/STRETCHSHAPES-CAD-PDF.
J.R. Clancy: Unveils Rigging Control System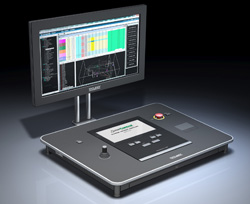 J. R. Clancy reimagines rigging control systems with SceneControl 5000 series. At the LDI show in Las Vegas, J. R. Clancy, Inc. unveiled a series of new rigging control systems that will address the entire range of performance venues—from the most complex flexible performing arts space, sporting complex or Broadway show to the stages of high schools and colleges.
Clancy has partnered with Niscon, Inc., creators of the Raynok Motion Control System, to develop the SceneControl 5000 Stage Automation Control System to bring unprecedented capability and flexibility to Clancy's bestselling SceneControl brand.
More information about J. R. Clancy is available at www.jrclancy.com, or by calling 800-836-1885.
PRG: Restructures German Companies
Production Resource Group, L.L.C., (PRG) has simplified its corporate structure in by combining PRG and SHOWTEC into one company. All SHOWTEC companies and PRG GmbH have been merged with their parent company, Production Resource Group AG.
As part of his continuing overall European management services and responsibility for PRG in Europe, Stephan Paridaen will provide general management services in Germany. Former Managing Director of PRG GmbH Carsten Zwerg and Johannes Wahl will lead PRG's production department. Ralf Richrath, a former SHOWTEC managing director and co-owner, will be responsible for warehouse/operations; and Horst Siefen, who headed VLD within the SHOWTEC Group, will be responsible for the asset management. Jana Wohlien will oversee the integration management of the PRG companies, and Lars Schwarz will be responsible for the finance department.
The sales and account management will be under the leadership of Udo Willburger, who has worked for PRG more than 20 years. Morten Carlsson, former managing director of PRG GmbH and founder of the former Procon group, will be responsible for marketing and business development. Wilfried Schiefer, founder and former managing director of SHOWTEC, will contribute his market experience as a consultant.
For more information on PRG, visit www.prg.com.
Daktronics: Accommodates High School's Rigging Order Requirements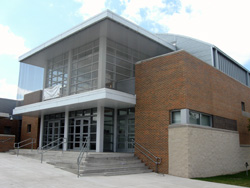 Daktronics designed and manufactured 16 Vortek Classic hoists with E Series control system for the Lanier High School theatre renovation project in Austin, Texas.
Originally, the school purchased six custom Classic hoists to be built and shipped in five working days. As the project progressed, the school added 10 units with hopes that all could ship at the same time. Five days after the order was submitted, the hoists with an E Series controller were shipped.