News From:
Sustaining Members
Exhibits Lift Equipment, Updates Website
Serapid, Inc. exhibited new lift equipment at the Charlotte 2011 Conference & Stage Expo and updated its website.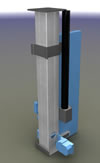 The Telescopic Mast is able support any type of equipment including (but certainly not limited to) cameras, lights and microphones. It is a self-guided lifting column made of aluminum and powered by the Rigid Chain – a telescopic mechanical actuator that is flexible in one direction and forms a steel beam in the other direction.
The company recently updated its website: www.serapid.us. In this update, visitors will find smoother navigation to the products and solutions they seek on the home page. The new site will work in collaboration with the previous site, www.serapid.com.
For more information, visit either www.serapid.us or www.serapid.com; e-mail info-us@serapid.com; or call 800-663-4514.
Adds Media Server Courses to Curriculum
Full Sail University, a leader in entertainment technology education, is adding specialized Hippotizer media server courses to its curriculum. Full Sail acquired seven GrassHopper media servers, five ZooKeeper software packages, and one Hippotizer HD for its hands-on show arena.
TMB is the exclusive distributor for Hippotizer in North America and Asia: www.tmb.com/products/hippotizer. Learn about other products from TMB at www.tmb.com.
Adds Courses on Emerging Technologies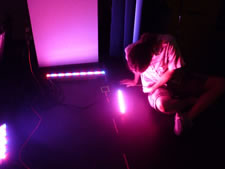 Stagecraft Institute of Las Vegas is three months away from kicking off the Summer 2011 intensive training program with some new courses in high-end technologies that have emerged in the live entertainment industry.
An intensive course in automation covers mechanical basics of automation to programming, and operational skills. The course is aimed at students of technical theatre, working professionals, and educators.
During Projections and Video, students will be exposed to facets of the media/lighting convergence currently sweeping the entertainment industry. Students will have hands on instruction in programming and installing various current media display technologies and practices used on television, Broadway, concert and theatrical stages.
James Madison Celebrates Center Opening
The Forbes Center for the Performing Arts at James Madison University celebrated its gala opening February 18 through 20. The new center combines five distinct performance spaces under one roof to accommodate both the university's School of Music and School of Theatre and Dance. The center houses both the Dorothy Thomasson Etes Center for Theatre and Dance and the Shirley Hanson Roberts Center for Music Performance. Theatre Projects Consultants, Inc. was an integral part of the design process.