News From:
Contributing Members
Aids Senegal Festival, Slates Training Event
ETC supplied a range of fixtures, dimming and control equipment to the third Festival Mondial des Arts Nègres (World Festival of Black Arts and Cultures) in Dakar, Senegal.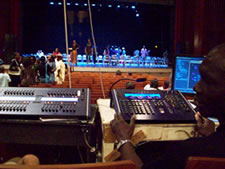 Following the festival, some of the equipment stayed at the venues (Théâtre National Daniel Sorano, Centre Culturel Blaise Senghor and La Biscuiterie de Médina, a multipurpose venue), while the rest went into flight cases supplied by Avab, ready to be transported across the country wherever it might be needed.
This was the third time the festival has been held, with the last one in 1977. As the continent celebrates 50 years of independence for French-speaking Africa, the festival brings together theater, film, dance, and literature to convey a vision of the continent as free, proud, creative, and optimistic.
For the first time in the company's history, ETC will host an end-user training event at its headquarters. CUE – which stands for 'Create, Understand, Experience' – will be a unique opportunity for lighting professionals of every skill level to enhance their work.
CUE's mission is to create closer connections between ETC and its customers, and to foster knowledge exchange among end-users. Hands-on product training will be led by ETC employees who create and develop the company's award-winning gear and by other industry luminaries who have changed the lighting world.
CUE will be held in downtown Madison, Wisconsin overlooking Lake Monona, at the Monona Terrace Convention Center, Monday, July 25 through Wednesday, July 27. The fee will cover training sessions, keynotes, swag, meals, and more. Space at CUE will be limited, so early registration is recommended. To sign up to receive registration details, visit www.etcconnect.com/cue. For information on ETC and its products, visit www.etcconnect.com.
Adds to Sales Team, Named Distributor for Console Company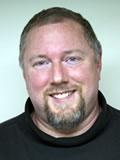 Creative Stage Lighting has hired Paul "PJ" Turpin as Western business development manager. He will be responsible for CSL dealer accounts in the Western United States.
He has over 20 years of entertainment lighting industry experience holding positions with Vari-Lite, Martin Professional, and more. He holds a BFA in theatre design and technology.
Creative Stage Lighting has been appointed the exclusive wholesale distributor of Avolites products in the United States and within Canada on a non-exclusive basis.
Avolites products, including consoles from the Diamond, TITAN, Pearl and Classic lines, and the upcoming Sapphire Touch, are available through CSL's Dealer Network. Under the arrangement, Creative Stage Lighting will also provide 24/7 technical support for Avolites products.
Ring Cycle First to Use New Equipment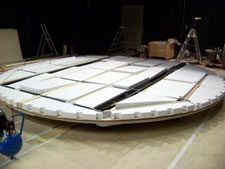 The 120-year-old Karlstad Theatre in Sweden is home to the Värmland Opera, which was founded in 1975. The company produces high-quality operatic, musical and orchestral performances, as well as school productions as part of a thriving educational program.
Working alongside construction firm NCC, Stage Technologies provided a complete refit of the building's stage system and machinery as part of a renovation project led by the city of Karlstad. The first performance to use the brand new equipment will be an ambitious rendition of all four operas of Wagner's Der Ring des Nibelungen. The all-new productions are scheduled to start in Easter week and the cycles will then run with one-day intervals until mid-July. Special add-on equipment was ordered for the production and supplied by the Stage Technologies rental team.
Installs Rigging at James Madison University
Texas Scenic Company (TSC) has completed a stage equipment installation at the Forbes Center for Performing Arts at James Madison University in Harrisonburg, Virginia. The new 183,000 square foot center combines the Dorothy Thomasson Estes Center for Theatre and Dance and a Center for Music Performance. A split level lobby allows the audiences to see all of the performance spaces in the multi-level building. The center includes a 600-seat concert hall, 450-seat proscenium theatre, 200-seat dance theatre, 200-set recital hall, 150-seat studio theatre, and support spaces.
TSC manufactured and installed Inline counterweight rigging and custom acoustic banners and curtains. Stage curtains and tracks, pipe grids, and a custom tension grid, woven onsite, were also installed. TSC also installed a Gala pit lift, Stageright and Steeldeck platform systems, and a custom seat wagon system. TSC is celebrating its 75th anniversary.
Offers Industry Exposure through Contest
Rose Brand's "How Did You Do It?" contest offers set and event designers, scenic artists, and technical directors a chance to flaunt their projects to tens of thousands of users on RoseBrand.com and the Rose Brand blog, "Know-How." Entrants must write a brief article and submit an accompanying picture (or link to a video) on how they or their organization accomplished an interesting set or event design project. Submissions may be sent to blogcontest1@rosebrand.com.
Articles will be judged by Rose Brand on how well suited they would be for a "Know-How" blog post. There can be an unlimited number of winners who receive both online exposure through Rose Brand's web presence and a gift card. The contest ends April 25. See blog.rosebrand.com for more details.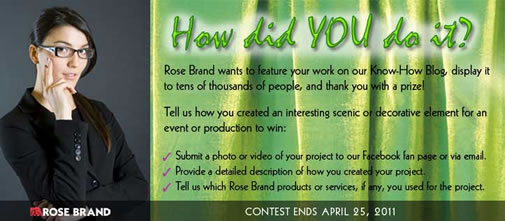 Site Shows Rigging 'Horrors'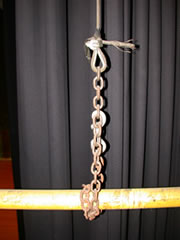 How bad can rigging mistakes get? That's the question J. R. Clancy answers on a weekly basis with its Scary Rigging Photo of the Week, posted on the company's Facebook page.
The photos of real rigging, sent to Clancy staff members by rigging inspectors and theatre managers, have generated more than 1,000 "friends" for the page. Each week, Clancy posts a new photo of a rigging accident-waiting-to-happen at www.facebook.com/JRClancy. These photos stand as vivid examples of amateur errors, often involving hardware that was never meant to bear weight.
To see the photos, read comments from rigging professionals about each photo, and add comments, visit the J. R. Clancy page on Facebook and click "Like" at the top of the page. To find a qualified rigging inspector and/or installer, call J. R. Clancy at 800-836-1885, or email info@jrclancy.com.