News & Notices
Symposium to Feature Digital Techniques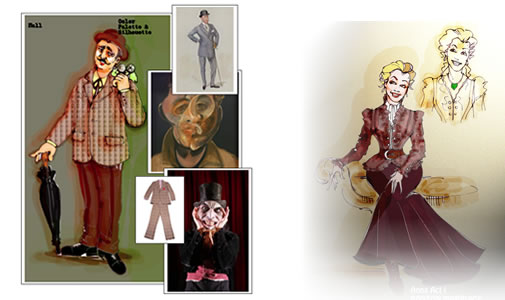 The Costume Design & Technology Commission will hold three days of information and skill-building July 28 through 30 with the 2011 Costume Symposium, Digital Costume Rendering: Painting from Your Desk!
Southern Illinois University Edwardsville, just 20 minutes from St. Louis, Missouri, will host the event, which includes workshops and a tour.
The symposium will demonstrate ways to paint effective costume renderings using Photoshop. Raphael Jaen will show comprehensive, step-by-step samples of how to use layers, how to create and manipulate fabric patterns, how to use software tools to create depth and texture, and how to apply color theory for highlighting based on lighting gel colors.
Participants will look at planning and archiving digital costume sketches, creating page templates, and painting character sketches using Photoshop Elements. They will create their own templates for a full show and draw/paint their own sketches using a variety of techniques, while working in small groups with one-on-one coaching.
A visit to St. Louis' Fabulous Fox Theatre and the mosaics at the Cathedral Basilica will complement the development of design metaphors, color theory, and texture processes.
Most meals, tour transportation, and tour tickets are included with registration. For a complete schedule, housing options, and registration forms, click here.