News From:
Around the Institute
2011 Stage Expo Opening
We're starting a new contest, for those who were listening at the beginning of Stage Expo 2011, and those who were unable to attend. Just go to YouTube, or click on http://bit.ly/eY8Ma7 and see how many friends and colleagues you can spot in the crowd, being part of a Random Act of Culture.
Correction – DePaul's Christopher Hofmann
An item in the December issue of Sightlines incorrectly noted the affiliation of a deceased member. Christopher Hofmann of DePaul University is still hale and hearty, and was at the 2011 USITT Annual Conference & Stage Expo in Charlotte, North Carolina this March. He also reports he's been having "a heck of a season."
Christopher D. Hofmann of South Carolina passed away in 2010.
USITT and Sightlines deeply regret the error and the confusion it has caused.
Days in the Sun...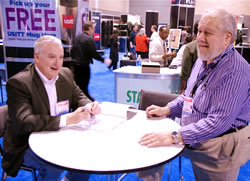 What could be more fun than sunshine and good friends? Sunshine, good friends, new friends, and information overload.
That's only part of what USITT members experienced in Charlotte during the 2011 Annual Conference & Stage Expo. A few glimpses of the event are in this issue, and more will be provided in the coming months.
Obama Presents Arts Medal to Brustein
President Barack Obama presented the National Medal of Arts to Robert Brustein, Distinguished Scholar in Residence at Suffolk University, in New York during a White House ceremony on March 2, citing his contribution to the American theatre and to the development of theatre artists. Mr. Brustein received the 2003 USITT Award.
The citation read at the East Room ceremony as the President presented the award praised Mr. Brustein "for his contributions to the American theater as a critic, producer, playwright, and educator. As founder of the Yale Repertory Theatre and the American Repertory Theatre and Institute and as the theatre critic for The New Republic since 1959, Mr. Brustein has been a leading force in the development of theatre and theatre artists in the United States."
Mr. Brustein first came to Suffolk University's College of Arts and Sciences as part of the Distinguished Visiting Scholars program in spring 2006. He became a full-time faculty member in spring 2007 and assumed the role of a Distinguished Scholar in Residence.
He has lectured on Shakespearean tragedies, directing, and theatre criticism.
In Memoriam – Rodney Smith
We note with sadness the death of Rodney J. Smith, Managing Director of the Tobin Center for the Performing Arts in San Antonio. Mr. Smith had a long affiliation with the Denver Center and was one of the people who helped USITT celebrate its 40th Anniversary in Denver is 2000.
Survivors include a son, Nicholas, and his wife, Donna. A service is being planned for early April in Denver. More complete information will appear in the May issue of Sightlines.