In Memoriam: William H. "Bill" Morse II
William H. "Bill" Morse II , lighting designer, died on July 17, as a result of heart failure. He was 57 years old. Mr. Morse was professor of theatre, theatre department chair, and resident scenic and lighting designer at California Polytechnic State University in Pomona, where he had taught for more than 25 years.
Bill's memorial service will be at Cal Poly Pomona on 4 p.m., Sunday, September 19, which will include a celebration of his life, and a screening of his favorite movie, The Big Lebowski is planned.
Mr. Morse received his MFA in scenic and lighting design from San Diego State University, where he was the resident lighting designer for The Experimental Theatre. He designed for San Diego's Old Globe Theatre-Cassius Carter Stage; The Greer Garson Theatre in Santa Fe; the University of California--Santa Barbara and Berkeley, and Pomona College. Other design credits include work for the Broadway Playhouse; the California Ballet Company, the National Theatre of Great Britain--USA Summer Residency; and the Candlelight Pavilion. He was the charge scenic artist and technical consultant for the Mark Taper Forum's Taper II stage world premiere of The Millennium Approaches: Angels in America, Part I.
Mr. Morse taught and designed internationally, most notably with the Siwela Sonke Dance Theatre for its launch at the Playhouse Company in Durban, South Africa. He was a lecturer and designer for the University of Zimbabwe and was awarded a USITT Fellowship to teach and design at the internationally recognized African township theatre Amakhosi. He was awarded an AIA Fulbright Grant with the University of Zimbabwe to develop and produce two community-based plays for the cities of Pomona, California, and Harare, Zimbabwe.
He was the course coordinator for CSU Summer Arts 2005, Amakhosi Theatre Company: Southern Africa Township Theatre Performance, and designed for the Harare International Festival of the Arts 2006.
Mr. Morse was a very active member of USITT, including many years of service on the Institute's Conference Committee. Mr. Morse was a wonderful friend and the most convivial of colleagues, especially to all s who knew him well through his associations with USA's Western Region and with USITT's Southern California Section.
Survivors include his wife, Joyce Kohl, and two sons, Matt Kohn Morse and L.B. Morse.
To read more from his colleagues about Mr. Morse, click here.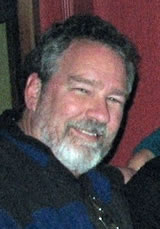 Bill Morse in Cincinnatti, Ohio, 2009