Remembering Helmut Grosser:'American Idol'
My first introduction to German technical directors came from those somber faces staring out of the introductory chapter in Volume I of Kranich. All men and serious fellows indeed. Even Walther Unruh, of a later generation and grandfatherly type that he was, bore the strongest resemblance to his predecessors. Meetings, for Walther, were treated in a serious way with firm agendas.
Meeting Helmut Grosser turned out to be a far different experience. It was, I think, in 1966 at a meeting of a propaganda-front conference "Interscena" in the Czechoslovak Socialist Republic. The American and the German Federal Republic delegates had been invited to participate. With our countries out of favor with the regime, we found ourselves housed in a transient hotel far, far up the Vinoradska trolley line.
There were constant comings and goings with tourist buses day and night. The beer supply was always exhausted at the hotel bar before we could return from our afternoon meetings. We Americans made common cause with a smiling, bearded German fellow, then working in Köln, who joined us in a mutual search for Pilsner, while he simultaneously probed the extent of his English vocabulary. This was the start of my relationship with Helmut Grosser that continued for more than four decades.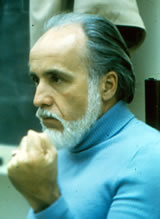 November 1973 at a Master Class at San Jose State University.
Two years later, again in Prague, we found ourselves participating in the formation meeting of the OISTAT. Helmut was then seconding for Prof. Unruh. A wonderful surprise was meeting Helmut's beloved Rosemarie at that meeting. Rosemarie's few words of English were supplemented by her ability to mime the thought she wished to convey. For example, my wife and Rosemarie had long insightful conversations with each other, these remarkably charming women forgetting their mutual inability to speak the other's language. My wife and I became close personal friends with Helmut and Rosemarie. Their love and close devotion to each other was immediately apparent. Their continued closeness as we knew them over the next decades set a new standard for enduring married life.
Helmut assisted Unruh during the Professor's term as the first President of OISTAT, and subsequently became the German Federal Republic's official delegate. We very much admired Helmut's ability to perform that task, as well as assume the editorship of the BTR, while performing his duties as the technical director at the operas in Köln and later in Munich. Our principal contacts were in the meetings of the OISTAT Commissions and Congresses. Helmut came to the meetings extremely well prepared on the agenda. He would quietly debate the issues until the point at which he thought the meeting had gone off track. Then a more aggressive Helmut appeared, a more animated Helmut, a more forceful Helmut. He used humor and mirth as means of adroitly re-focusing the meeting. This combination of serious purpose advocated with humor is a Helmut trait that is much to be envied. In the same way I am reminded of the annual Christmas messages that arrived yearly from the Bavarian State Opera, always focused on some aspect of the season's opera production coupled with some small physical object of humorous intent.
In 1973 I invited Helmut to deliver a series of month-long Master Classes in theatre design and technology sponsored by our United States Institute of Theatre Technology (USITT). The classes consisted of two or three days of lecturing in each of 10 locations throughout the United States. The students came from the graduate and undergraduate theatre departments of the teaching institutions in each location. Helmut prepared vigorously for these classes, including considerable enhancement of his English vocabulary. The messages that Helmut delivered included a love of theatre and opera, the obligations of the theatre professional, the leadership role of the technical director, and the importance of safety in the theatre. Helmut brought a clear vision of professionalism in the theatre that instilled his own love for the profession of theatre. He and Rosemarie made enduring friends throughout the United States on this visit and on several subsequent visits.
Helmut had set such a high standard during the Master Class tour that, in 1985, he was still well remembered for his outstanding professionalism. In that year the USITT awarded him a "Special Citation" (less than a dozen individuals have been so honored by the Institute as it celebrates its 50th anniversary). The concluding words of the citation are--- "his continuing and prolific efforts to develop and improve the state of theatre production and organization."
In 1997, as Helmut was completing an 18-year term as President of OISTAT, I had the honor of awarding him OISTAT's Gold Pin. At the same ceremony, USITT made Helmut an Honorary Fellow of the Institute, the only non-member ever to be awarded this distinction.
Present at that ceremony as well was another of OISTAT's greats, Josef Svoboda. The three of us together taking some credit as among the Founders of OISTAT, and also for the success of our original mission, to facilitate a dialogue between East and West beyond the political borders created by the "Cold War."
Dr. Joel E. Rubin, author of this article, is a theatre-planning consultant in New York City. He is a Past-President and the Co-Founder of USITT and preceded Helmut Grosser as President of OISTAT.
I write these words after hearing of the passing of Helmut Grosser. I relate these stories as examples of Helmut, the person who became my friend and who remains with me in my heart as a friend. I first met Helmut when I was 22 years old and came to Germany to work and to learn the physical and managerial operations of the large German Opera Houses. I was visiting various cities with no introductions. I knocked on the stage door of the Cologne Opera House and explained to the doorman that I would like to see the theatre and its equipment. After being told to sit and wait, some minutes later Helmut Grosser, the technical director, came to the door and proceeded to give me and my wife a 45 minute tour of his "house" explaining much to me about the equipment, operations, and repertory. OISTAT, BTR, and internationalism were never mentioned but Helmut took the time to patiently explain the nuts and bolts of the theatre's operations to me. Clearly a busy man in an important job, he made time to talk to a young boy he did not know but was interested in technical theatre. This was my introduction to the kind of man that was Helmut Grosser.
As time went on, I discovered the pleasure of reading the Bühnentechnische Rundshau magazine, which Helmut edited, and its extensive coverage of theatres in Germany old and new. Through the BTR coverage of OISTAT, Helmut explained to me internationalism and the importance of international communication, particularly at the time between East and West. From Helmut's introduction of internationalism and Joel Rubin's invitation to actually attend an OISTAT meeting, I became committed to such communication. By attending OISTAT meetings and having regular contact with Helmut, I developed what I considered a precious friendship with him and his beloved wife Rosemarie, visiting them often at their home outside Munich.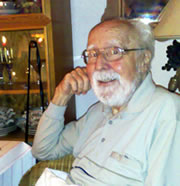 Two memories of Helmut come to mind; both are personal because the memories included my children. Helmut made a USITT Master Class tour to the United States in 1973, and I, along with Randy Earle, was able to host him and Rosemarie when he spoke to San Francisco Bay area students. My fondest memory of that visit was driving the Pacific coast with Helmut and Rosemarie; the two of them hand in hand with my 2-year-old daughter walking the headlands and looking at the wild Pacific Ocean. Many years later my family was visiting with Helmut and Rosemarie at Christmas time. My two children were enchanted with the miniature Christmas Village, carefully decorated by Rosemarie, and constructed in a window by Helmut with the Munich snow of their yard as a backdrop. It became a Ramsaur family tradition to have such a village at Christmas, but alas without the Munich snow.
The professional accomplishments of Helmut Grosser as technical director at the Opera Houses in Cologne and Munich, as editor of the Bühnentechnische Rundshau, and as President of OISTAT were great, but to me his greatest accomplishments were personal. Helmut taught many colleagues an enormous amount about theatre and friendship, and I cherish the friendship we had, and I will miss him.
My first memory of Helmut goes back to November 1973 when I was privileged to co-host, with Michael Ramsaur, his Northern California Master Class in Technical Direction that we held at San Jose State University. Helmut conducted a class that opened our minds to the true logistical problems of repertory opera production, staging, construction, and storage on scale none of us had ever experienced. I always smile when remembering his apology for "bad English" that was unnecessary due to absolute clarity on his part. I took Helmut and Rosemarie on tours around the Bay area and enjoyed wonderful times with them. I remember their sense of awe upon seeing the coastal redwoods in John Muir Woods.
Subsequently, I was a guest of the Grossers in Munich upon several occasions where their hospitality was so generous and our friendship continued to grow. I will always remember the twinkle in Helmut's eyes when he spoke of Rosemarie and don't know when I've ever seen two people so much in love. When Helmut came to the San Francisco Opera to supervise installation of King Lear (Bavarian State Opera productions) in May 1985, without Rosemarie, we took a number of "road trips" including a magical journey down the Big Sur coast.
Once again, that smile haunts me and I remember so many good conversations with him about the theatre, our respective jobs and, most important, life in general. The story of the Grosser's journey to West Germany after World War II has never failed to stay with me and, in part, explains their mutual love. Helmut was deeply passionate about the second love of his life, the theatre, and never hesitated to share thoughts and experiences to assist those like me who were just entering the profession. His warm humanity and kind spirit will stay with me always as I constantly go back to that image of him at his 80th birthday celebration. Helmut, you are deeply missed by those of us so fortunate to know you.
Helmut Grosser died May 23, 2010 at the age of 83. Mr. Grosser, a USITT Fellow, was active in OISTAT from the beginning of its existence. From 1974 to 1978, he led the programme commission of the new organization, and from 1978 to 1997 he served as OISTAT President. At left are remembrances from his colleagues and friends.