A software upgrade for ETC's iRFR has a number of new features, with several specifically designed for the Apple iPad. ETC also provided controls for Chocktaw Casino's special effects in Oklahoma.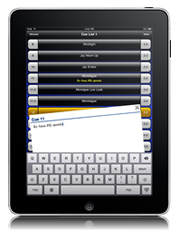 When running the iRFR application on an iPhone, iPod Touch or iPad, these new features include a Cue Playback Display, which offers playback controls of the master cue list and shows the current cue and dynamic duration, as well as several previous and pending cues. A similar tool, the Cue List Display, provides the same information, but doesn't have playback controls.
An additional new feature is a Pan/Tilt display that provides ETC axis controls on the Eos product line. Also, a new Encoder Display – only on the iPad – allows users to create a page of encoders, which can be moved and resized as desired using standard Apple navigation techniques.
Finally, the new Console Connect List creates a list of different consoles to connect to.
All profits from iRFR application purchases are put toward ESTA's Behind the Scenes program in North America and its British equivalent. Light Relief.
For vacationers on the road to the Choctaw Casino Resort, the guest experience begins on the approach to the hotel, with the series of LED-illuminated, color-changing pylons that flank the boulevard. Drawing up to the resort, motorists see a circle of nine obelisks around an entry fountain that incorporates not only dramatic water effects, but lighting and fire. Inside, guests are greeted with a second fountain -- a dazzling water-curtain programmed to change colors and water quantity as a kinetic backdrop to a buffalo sculpture. The synchronized magic of all these scenic effects – as well as the entire exterior LED wash lighting of the building -- is performed by ETC Unison Mosaic show controllers.
To Top