On May 22, 25 people from all over the Ohio Valley section converged on the Denison University Mulberry Computer Lab for a two-day master class on media design for live performances presented by Associate Professor Jacob Pinholster from Arizona State University.
Mr. Pinholster generously shared his wealth of training and experience as a media designer for a wide range of productions from experimental new work to Broadway shows. His work will be seen again on Broadway in The Pee Wee Herman Show opening this October.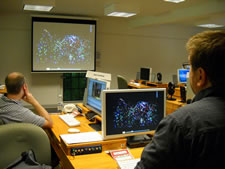 Participants learned about creating masks in Photoshop, use of AfterEffects for editing including chroma keying and luma keying of video and how to map images to surfaces as well as sampling a variety of playback systems -- from the moderately priced QLab to Isadora, and even the high-end, Watchout.
Participants remarked that the presenter and workshop exceeded their expectations. Some were beginning to generate cues for upcoming shows by the end of the weekend.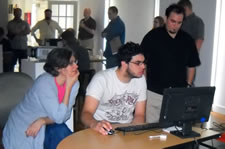 The section expressed sincere thanks to Chris Faur and Denison University for hosting the event as well as Mr. Pinholster for a dynamic and exciting weekend "making the world safe for projection design." There has already been discussion about continuing this topic with another master class in the future.
Save the date for the Fall Conference for the Ohio Valley Section. It will be held Saturday, September 25 at Capital University in Columbus, Ohio It is shaping up to be an exciting day of fun and informative sessions!
Photos/Tammyi Honesty
To Top