Officer Profile: Joe Aldridge, USITT President
USITT's new president has toured Japan with Siegfried and Roy, helped stage Oedipus at Colonus in Greece, taken plays to the Edinburgh Fringe Festival, and been artistic director for Shakespeare Under the Stars in Wimberley, Texas. Those experiences are just part of what Joe Aldridge brings to the job of leading USITT into its second half century.
For more than four decades Mr. Aldridge has been a member of IATSE Local 720, the local that serves the Las Vegas entertainment industry. While he now rarely works calls, he is a Trustee and Chair of the Nevada Resort Assn./IATSE Local 720 Training Trust, working to advance the skills of those creating magic every day in Vegas.
He has also been with the University of Nevada at Las Vegas, not continuously, since the 1970s, serving as technical director and, most recently, helping create and nurture the Entertainment Engineering and Design Program, a joint effort of the colleges of Fine Arts and Engineering. That included the task of shepherding that program through the approval process required of the State Board of Regents, and recruiting students who will benefit from the melding of the disciplines.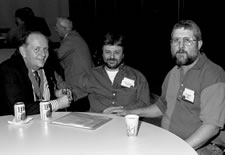 Joe Aldridge, right, at the Annual Conference in Wichita.
Mr. Aldridge has long been an early adaptor to new methods. He's been teaching students to weld and use alternate technologies since 1974, and his second-generation iPhone is crammed with apps.
His commitment to both training and skillful use of technology has been combined in several different initiatives. He has served as one of USITT's representatives to the Entertainment Technician Certification Program council since it was formed, and received a USITT Special Citation in 2006 for that work. He was recently appointed by IATSE's National President Matthew Loeb to serve on the union's Craft Advancement Program committee.
Mr. Aldridge has been a key member of the USITT Conference Committee since 1995, (see his recollections of joining the committee here). He served as Vice-President for Special Operations for a year and then Vice-President for Conference for six years before becoming President-Elect in 2009. He assumed the reins as President on July 1, 2010 and will serve a two-year term.
In talking to Mr. Aldridge, one theme repeats. He has been asked to take on many of the unique assignments which he has enjoyed. He worked with Siegfried and Roy when they were a "13 minute" act at Bally's in Las Vegas, was asked to work with them again at the Stardust, and the Frontier, and then for the tour in Japan. He was asked to assist USITT's Conference, and the ETCP committee.
One place where Mr. Aldridge did the asking is in his partnership with his wife, Sherry. They have been married 41 years, and knew each other even before Mr. Aldridge received his undergraduate degree from Texas Tech. Sherry is a nursing educator and teaches psychiatric nursing at a private college in Las Vegas. Their daughter, Summer, attended UNLV (where Mr. Aldridge received his Master's degree) and is now married and working in the hospitality industry in Las Vegas.
Summer helped provide one of those relaxing touches at past USITT Conferences, leading the crew that provided chair massages throughout the long days of Stage Expo.
For Mr. Aldridge, there is always a new way of combining the serious work of the event with the lighter touches that make it more enjoyable.