Visit New Exhibitors at Stage Expo 2010
Bring your favorite walking shoes to the 2010 conference to comfortably explore all that Stage Expo has to offer. Over 100 commercial booths and tables, plus dozens of non-commercial tables and a plethora of special exhibits, will fill exhibit halls A, B, and C of the Kansas City Convention & Entertainment Facilities.
More than 150 exhibitors have already reserved space for the 50th anniversary show, with just a few booths remaining to be sold. A limited number of Commercial tables for small companies meeting criteria, and Non-Commercial tables for colleges, universities and other non-profit organizations are available. Anyone who would like to exhibit but has not reserved a space should contact Helen Willard immediately at hpwillard@aol.com.
Recent additions to the preliminary exhibitor list include Bad Dog Tools, Conductix-Wampfler, The Costume Bible, George Washington University, Green Room Staffing, Illinois State University, Ohio State University, Omaha Playhouse, San Diego State University, Shakespeare Theatre Company, Society of Prop Artisan Managers, Staging Concepts, Steppenwolf Theatre Company, Tulane University, and Western Illinois University.
For more information about Stage Expo 2010 exhibitors, visit the Stage Expo Web Page to see the layout and a current list of exhibitors. Click on a highlighted booth to find contact information and a brief description for each exhibitor. Links are provided to exhibitors' websites to provide information on products and services prior to the show.
Stage Expo 2010 will be open 11 a.m. to 6 p.m. on Wednesday and Thursday and 11 a.m. to 4 p.m. on Friday of the conference week. Expanded times where there are no sessions, noted as "Stage Expo only hours" will give plenty of time to visit all the booths and enjoy the wide variety of special exhibits at USITT's 50th anniversary show.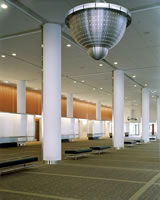 Stage Expo 2010 will have an unusual configuration in Kansas City, Missouri. The exhibition halls A, B, and C are on the second floor and span the street which runs beneath them.
Photo/Mark Putman