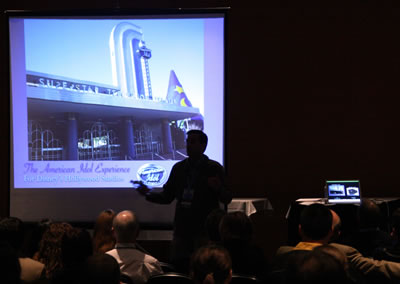 American Idol – Theatre in a Theme Park, a case study of how Walt Disney Entertainment develop a live, theatrical experience from a popular television show, was one of the sessions presented by exhibitors at the 2009 Annual Conference. Exhibitors are already planning sessions for 2010.
Photo/Casey Kearns
2010 Sessions to Feature Programs by Exhibitors
In addition to exhibiting at Stage Expo, many companies and organizations sponsor and present programs at the conference. Some programs are co-sponsored by USITT Commissions and exhibitors; other sessions are developed by the Commissions with exhibitor personnel as presenters. Here are brief descriptions of some of the sessions which will be presented by exhibitors in Kansas City:
Almost Everything You Want to Know About USA 829
Sponsored by USA Local 829 IATSE
A discussion of United Scenic Artists' representation of members working in the entertainment media of theatre, film, and television including designers, scenic artists, and associated positions.


Continuing Adventures in Sound
Sponsored by d & b audiotechnik
The team from d&b audiotechnik, led by John Taylor, will continue their popular series of informative sessions on audio technology, ranging from system details to binaural recording.


Color Conversations with L*A*B*
Presenter, Joe Tawil, GAMProducts
Panel discussion/lecture/demonstration on using the L*A*B* color system for communication between lighting/scenic/costume designers.


Evolution or Immaculate Conception: Lighting Control Over 5 Decades
Presenters, Tracy Fitch and Anne Valentino, ETC
Lighting control has evolved extensively through the past 50 years. A panel discussion with a few of the industry's masterminds who have charted the course from autotransformers to the latest networked consoles. Who knows? Questions might spark the next 50 years of innovation.


Lighting Fixtures
Presenter, Tom Littrel, ETC
A discussion of lighting fixtures and how they have changed over the past 50 years, including demonstrations of conventional and intelligent fixtures.


White Space Sell-Off: One Year In
Sponsored by Shure, Inc.
A representative from Shure Microphones will present an update of the status of wireless microphone use one year after the major changes of early 2009.
Exhibitors interested in submitting a proposal for an exhibitor-sponsored program should contact Helen Willard at hpwillard@aol.com for more information.