Showboat Featured in Chronicle
The University of Minnesota-Twin Cities' Department of Theatre Arts and Dance, through its summer production program, the Minnesota Centennial Showboat, was featured in a recent issue of Chronicle of Higher Education.
According to Sherry Wagner-Henry, Showboat's managing director, the Chronicle asked to do the feature on Showboat because of the uniqueness of the training program, the venue, and the role both public and private partnerships play in its management.
"We're really proud of the substantial role that Showboat programming and training has played in the lives of our students, our community and the University of Minnesota. In addition to the student performers, both design/tech students and management students get a chance to practice their craft and get paid real world wages for applying their skills and training in a professional theatre setting. It is applied learning at its very best!"
The article can be accessed at the Chronicle's website.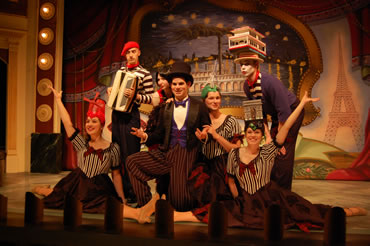 Photo/Leiah Stevermer, Minnesota Centennial Showboat