Kansas City: A Downtown Renaissance
Kansas City probably thought is was getting a great deal when the new Federal Interstate Highway System ran not just one highway through its downtown, but two! Interstate 35 runs from the Canadian border to Mexico, and Interstate 70 runs east/west across most of the country.
These new highways were brought directly into downtown where they intersect. It changed everything. Before the highways, downtown Kansas City was the total focus of living in the then 20th largest city in the nation, and had plenty of mass transit in streetcars and some new buses moving people in and out of downtown every day.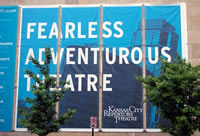 Downtown theatres would run daily shows with thousands of people attending, and the best of everything was to be had downtown. The new highways however, cut a ring around a tight downtown area essentially squaring it off from everything else. First, all activity outside the ring began to die, and very soon, the inner ring began to whither as well. The highways were used to ferry thousands of automobiles daily in and out of this inner core, and Kansas City rapidly became a car town. The suburbs exploded and urban flight left a devastating effect in its wake.
So, visitors to Kansas City in the 1970s, or '80s, or especially the '90s, quickly realized there was no reason to really be downtown, and no one ever was, unless they worked for a bank or a government.
How things have changed in the new century! Some $4 billion in investment has led to an amazing revitalization so Kansas City's downtown has an interesting new and vibrant feeling.
The Kansas City Public Library at 10th & Central streets was the first of the new wave to open downtown in 2004. A marvelous 100-year old bank building is the centerpiece of this renovated and expanded $50 million project. This main library features great visual beauty, wonderful facilities, internet-accessing computers, books, movies, coffee shop, play-readings, lectures, and meeting and conference facilities.
The H&R Block World Headquarters at 13th & Main streets was completed in 2006 and features 1 million square feet of office space in this unique oval design, an amazing art-enhanced lobby, and a 320-seat theatre shared with Kansas City Repertory Theatre.
The Sprint Center at 14th & Grand Streets now presents the major concerts and events for the metro area. It celebrated its opening in 2007 with an Elton John show, but the real show was Garth Brooks' "One Artist, One City, One Time" event where he came out of retirement and did nine back-to-back shows -- only in Kansas City. Also part of the Sprint Center complex is the award-winning College Basketball Experience that includes the National Collegiate Basketball Hall of Fame.
Other projects completed in the Central Business District include: Bartle Hall Convention Center expansion and renovation; IRS Headquarters; new Federal Reserve Bank of Kansas City complex; the Whitaker Federal Courthouse featuring 21 courtrooms; National World War I Museum at Liberty Memorial; Union Station renovation; advertising firm Barkley, Inc.'s renovation of the former TWA World Headquarters; and nearly 3,000 residential units spread throughout the district.
The Power & Light District is where many USITT friends will spend their free time. Stan Durwood coined the name in the 1990s. He was trying to develop a downtown renaissance with a project that he named after Kansas City Power & Light's one-time headquarters, the Power & Light Building.
Mr. Durwood was a fascinating man who had an impact on the movie-going public worldwide. The 1960s started with quite a number of movie theatres downtown, but by the end of the decade (possibly because of the interstates) all that was left were two huge movie palaces -- the Empire Theatre and the Midland Theatre -- and the smaller Roxy Theatre. Mr. Durwood owned them and was struggling to keep them full.
One day he realized that movie theatre labor in his theatres came in chunks, and that once the movie started, his staff didn't have much to do. He struck upon the idea that he could show more movies on more screens with the same labor force. He started by putting in small screens around the main screens in the Empire and Midland. Soon he was opening multi-screen cinemas in the Kansas City suburbs and the rest is history. His company, American Multi Cinema, or AMC, is the second largest movie theatre chain with over 4,000 screens, and headquartered at 9th & Main streets.
Mr. Durwood died before his vision of a Power & Light District could be realized, but today it nears completion and centers around 13th street between Main and Grand. It is actually an eight-square block entertainment district which opened slowly in 2007 and now features some 45 restaurants, retail shops, bars, and entertainment venues.
Some of the establishments up and running are the Lucky Strike Lanes upscale bowling alley, Gordon Biersch Brewing Company restaurant/bar, Genghis Grill stir fry, 801 Steak & Chop House, Maker's Mark Bourbon House, and Ted's Montana Grill. Some great Kansas City originals are The Bristol Seafood Grill and The Peachtree Restaurant with great soul food.
Taverns and bars are well represented by Flying Saucer Draught Emporium, Johnny's Tavern, Raglan's Irish Bar, Howl at the Moon Piano Bar, Angel's Rock Bar, PBR Big Sky, and Shark Bar.
The heart of Power & Light is the "KC Live!" which is a one-block area devoted to music and entertainment venues. Concerts are frequently held in this covered, outdoor plaza and visitors can wander the whole district with a drink purchased from one of the establishments. Fourteen eating and drinking venues on two levels surround this outdoor plaza.
Cosentino's Downtown Gourmet Market opened a fantastic grocery/deli/prepared foods extravaganza at 13th & Main streets. This 37,000 square-foot food emporium is nurturing a growing downtown resident population and is perfect for the traveler in search of a quick and healthy meal at a reasonable price. It is open daily from 6 a.m. to 10 p.m.
The Main Street Theatre recently opened at 14th & Main streets. This is a magnificent state-of-the-art AMC movie house with digital projection and sound, 3D theatres, private viewing suites, and an in-house restaurant and bar. This is the former Empire Theatre completely renovated.
The Midland Theatre also finished a $28 million renovation and has been turned into a beautiful, small concert venue seating up to 3,000. Seats were removed from the orchestra section to feature cabaret table seating. A regular stream of musical groups and comedians grace the stage.
Finally, at the southwestern edge of the Power & Light district, is the home of the Kauffman Center for the Performing Arts. This $413 million project will feature new performance homes for the Kansas City Symphony, Kansas City Ballet, and the Lyric Opera.
There will be two theatres designed by architect Moshe Safdie, acoustician Yasuhisa Toyota, and theater consultant Richard Pilbrow featuring an 1,800-seat proscenium theatre and a 1,600-seat concert hall. The complex is currently under construction and is scheduled for completion in the fall of 2011. USITT members will be able to participate in daily hard-hat tours through the conference, and a panel discussion with the design team is scheduled for April 1, 6:30 p.m. at the Copaken Stage.