The First Night Riders, is an annual fundraising, international, industry-based motorcycle tour of British theatres. It is a group of bikers connected to entertainment who take part on a long fun-ride raising money for good causes. The idea for The First Night Riders (motto Out of the Wings and into the Wind) came out of the tire tracks of America's Long Reach Long Riders.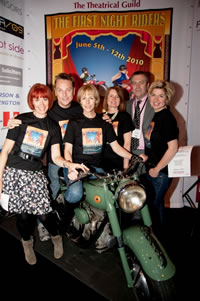 The inaugural event for the First Night Riders in 2010 will raise money for the Theatrical Guild, one of the United Kingdom's longest serving theatrical charities which offers support to those working backstage and front of house.
Launched at PLASA '09 by Brian Conley and Liz Robertson, both currently starring in Hairspray; Issy van Randwyck of Fascinating Aida, and actress Fiona Mollison, the event has already enlisted Richard Bullimore, Steve Colley, Neil Collins, David Edelstein, George Ellerington, Ric Green, Darrell Hewitt, Simon Le Bon, Simon Nichols, Michael Powell, and Bill Sapsis from the United States. The latest recruit, John Barnes, was signed up at the press launch.
Starting on Friday, June 5, the round Britain ride will take in new, interesting, and historically significant theatres around the UK, visiting one or two each day.
To keep up to date with riders and sponsors, and find out more about the event, visit the site. Anyone wishing to take part or pledge support (or both) may contact the organizers at info@firstnightride.com.
To Top