Recognitions New to USITT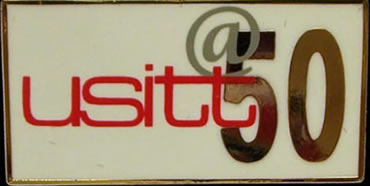 This unique recognition pin has been created as a way to say, "thank you" to the more than 70 USITT members who are completing their five-year contributions to the USITT@50 Securing our Future campaign. Donors to this campaign are recognized on the USITT Honor Roll of Giving that appears online and in the annual Membership Directory & Resource Guide.

USITT's Board of Directors has established four levels of financial support by major donors as part of the 50th year celebration. Major donors are permanently listed on the USITT Honor Roll of Giving for their both current support and/or estate planning gifts.
These pins are a continuing reminder of how important these individuals are to help achieve many of the Institute's goals. That would not be possible without the generosity of USITT's members.
As of October 1, the five-year fundraising appeals have realized more than $500,000 in direct gifts, estate planning, and matching incentives. Those gifts build the funds which support awards, grants, and recognitions.
We continue to thank each of these special donors for their effort in Securing Our Future.
Lawrence A. Hill
USITT@50 Chair

Richard Durst
USITT@50 Honorary Chair