In Memoriam: Lighting Designer Tharon Musser
Tharon Musser, considered the dean of American lighting design, died on April 19, 2009. She was 84 and had suffered from Alzheimer's disease for approximately 10 years. A Scotch drinkin', rough spoken, cigarette smokin' lady from Appalachia, she was equally beloved for her blunt, gruff manner, her boundless generosity, and her design artistry.
Born Kathleen Welland in Roanoke, Virginia in 1925, her parents died when she was a toddler, and she was placed in an orphanage at the age of two. In 1929, she was adopted by the Rev. George Musser and his wife, Hazel, who renamed her. After graduating from high school, she attended Berea College in Berea, Kentucky, and then the graduate technical design and lighting program at Yale Drama School.
After Yale, she moved to New York, where she helped start Studio 7, an experimental theatre. She also designed for the Stratford Shakespeare Festival and designed dance programs at the 92nd Street Y, which led to her touring with the choreographer Jose Limon. She joined United Scenic Artists in 1956 and shortly after was asked to design the lighting for the first United States production of Eugene O'Neill's Long Day's Journey Into Night. Between 1956 and 1970 she designed the lighting for the Broadway productions of: The Entertainer, J.B., Once Upon a Mattress, Any Wednesday, The Lion in Winter, Mame, A Delicate Balance, The Birthday Party, and Applause.
Beginning in 1970, Ms. Musser entered into her most creative and celebrated period when she lit such Broadway productions as Follies, A Little Night Music, Candide, Mack and Mabel, The Wiz, Pacific Overtures, The Act, Dreamgirls, and, of course, A Chorus Line, which became a Broadway landmark playing for a total of 6,137 performances. The show also is notable for being the first Broadway production, at Ms. Musser's insistence, to install a permanent lighting bridge in the auditorium and to use the first computer controlled lighting console. She was nominated for the Tony Award for lighting design 10 times and received the award for Follies, A Chorus Line, and Dreamgirls.
Ms. Musser also trained a generation of lighting designers through her many assistants who, after attending "Musser University" as Ken Billington phrased it, went on to careers of their own. These include Mickey Kinsella, Anne Sullivan. Ken Billington, David F. Segal, Spencer Mosse, Jeff Davis, Richard Winkler, Curt Ostermann, Rick Belzer, Jo Mayer, Jeffery Schissler, Fred J. Kancock, Kirk Bookman, Gregg Marriner, Jackie Manassee, Betsy Adams, Vivien Leone, Robert Jared, Paul Palazzo, Kendall Smith, Douglas Cox, Brian Nason, David Lander, and Marilyn Rennagel, who became Ms. Musser's life partner and lived with her until her death.
In 2007, Ms. Musser was honored with the publication of The Designs of Tharon Musser, by USITT. Written by Del Unruh with Jeff Davis and Marilyn Rennagel, and profusely illustrated, the book chronicles the life of Ms. Musser from her beginnings to 1999 when she designed her last Broadway show, The Lonesome West. The book is available at the USITT website.
To Top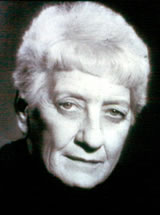 Tharon Musser